Rhino Group donates 8 ICU Ventilators to Ministry of Health
Rhino Group, serving Sri Lanka for over half a century, has stepped forward to donate eight ICU Ventilators worth over Rs. 10 million to the Ministry of Health to support efforts to combat the COVID-19 pandemic.
In a media release, the Rhino Group said it has over the years taken the lead in turbulent times, such as the devastating Tsunami that struck the island, and the landslide in Aranayake that took lives and disrupted livelihoods; to support the community and to help them rebuild themselves, demonstrating its affinity towards the people of Sri Lanka.
Commenting on the donation to the Ministry of Health, Rhino Group Managing Director, E. J. Gnanam stated, "Rhino and its subsidiaries has always come forward to help the nation during difficult times, as a responsible corporate citizen for the past sixty years. At a time when oxygen ventilators are urgently needed to help in the recovery, Rhino is honoured to be able to donate eight ventilators for the national health system, so that our tireless frontline health workers can help these hospitalized patients."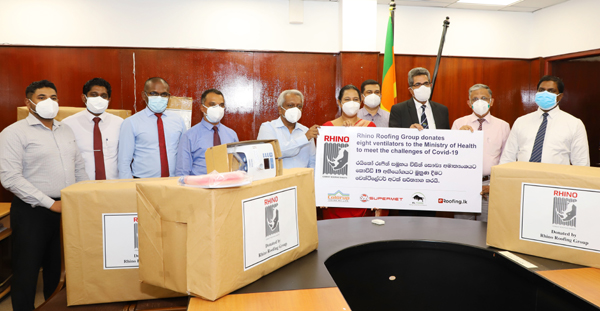 Above at the presentation: Standing from left - Chamika Jayasinghe – General Manager - Supermet Building Solutions Limited; Jude Pullenayegam – Head of Marketing; Indika Rajapaksha – Group Chief Financial Officer; Jude Fernando – Director; E. J. Gnanam – Managing Director - Rhino Roofing Group; Minister of Health Nutrition and Indigenous Medicine – Pavithra Wanniarachchi; Private Secretary to the Minister of Health – Kanchana Jayaratne; Secretary Ministry of Health – Dr. Sanjeewa Munasinghe; Director General of Health Services – Dr. Asela Gunawardena and Deputy Director General of the Biomedical Engineering Division – Janapriya Karunathilake.
Comments
Still No Comments Posted.