Siyapatha Finance launches revamped corporate website
Siyapatha Finance PLC, a fully owned subsidiary of Sampath Bank PLC, has launched its newly improved corporate website.
This mobile-responsive digital platform is compatible with all modern browsers, ensuring convenient access to necessary information through an effortless user–friendly experience. A view of the complete product portfolio offered by Siyapatha Finance is simply accessible by the customer through the improved navigational options and in addition, the reintroduced website offers several more features that will aid immensely in the convenient access of the user, the company said in a media release.
Sharing his sentiments regarding the digital website upgrade, Ananda Seneviratne, Managing Director of Siyapatha Finance stated, "We are extremely mindful of the exasperating circumstances our customers face due to irregular restrictions in movement, and its impacts on their day to day tasks. As such having access to relevant information in a digital form is one of the most convenient techniques in which we can offer our services promptly. Our main aim behind redesigning and improving our website is to prioritize convenience and provide ease of access to relevant information."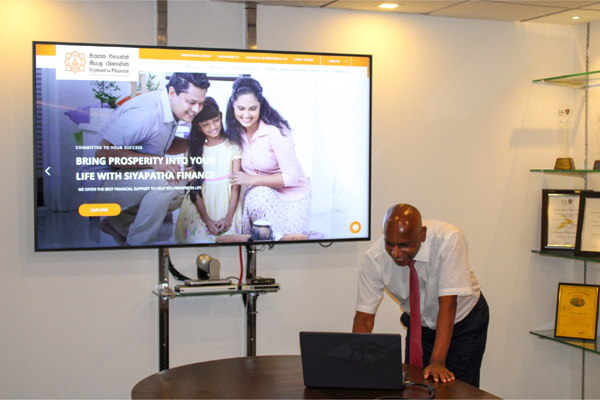 Above the website being launched by Managing Director of Siyapatha Finance Ananda Seneviratne in the presence of the Senior Management.
Comments
Still No Comments Posted.