Fashion returns in a burst of exotic colour
By Ruqyyaha Deane
(Pix by M A Pushpa Kumara)
With promises that this year's Swim Week would not be like any other taking into account the shift towards a 'new normal', Olu Swim Week 2021 did not disappoint. Kicking off on Friday evening with designers focusing their collections on Luxury Resortwear catering to the upcoming December season of festivities and destination weddings, Olu Swim Week by Colombo Fashion Week (CFW) stepped up their game.
Highlighting the theme 'Environment is Luxury', the CFW team brought home the reality of these COVID times with the lobby of Shangri-La's grand ballroom where Day 1 unfolded decorated with mannequins holding framed COVID-19 waste that is usually not discarded properly such as used masks, sanitiser bottles, gloves etc and more to make a thought-provoking statement. They also took advantage of the ample space provided with the limited number of guests, by having the live audience sit on either side of the ballroom and choreographing the show amidst artfully placed potted plants.
Kicking off the show was Aslam Hussein's resort brand segment and it was clear that Sri Lanka's versatile ecosystem from its sandy beaches to tropical forests had inspired the eye-popping colour palette and prints. Boasting 'exciting new silhouettes to give an old staple new life', the collection showcased elegant maxis, kimonos, jumpsuits, rompers and two-piece sets. The finale was an absolute showstopper of a gorgeous dress with a billowing cape that had the audience enraptured. The collection was a beautiful blend of luxury and soul, screaming of tropical vibes.
Aslam Hussein's resort brand segment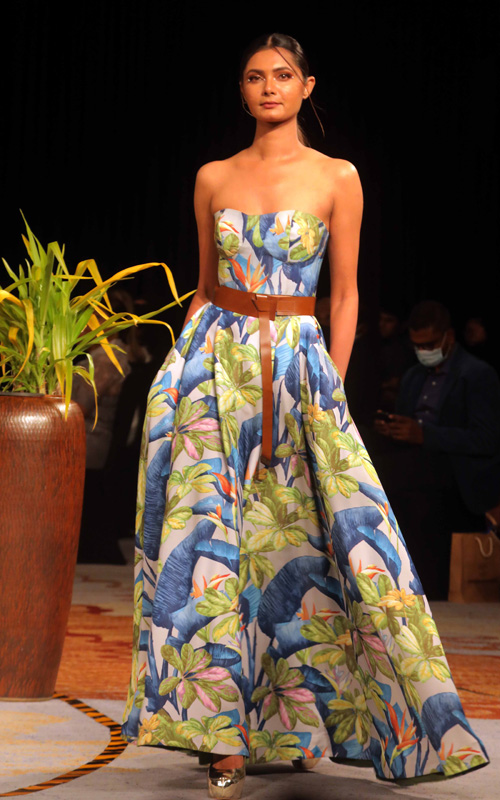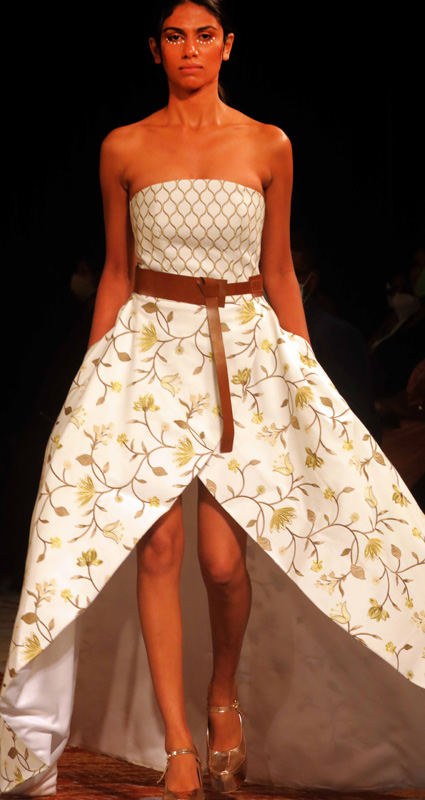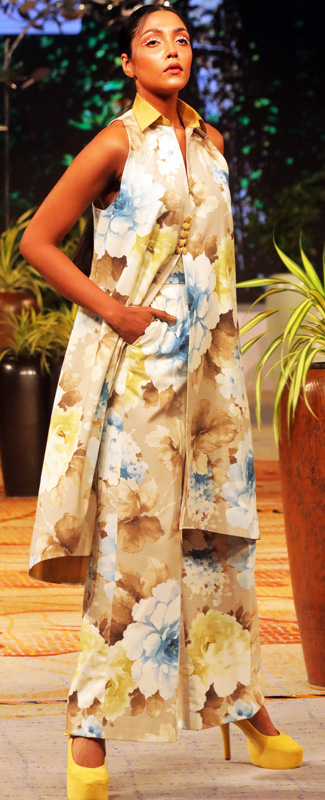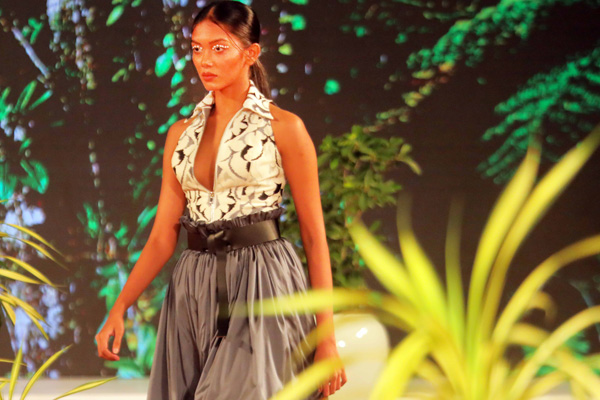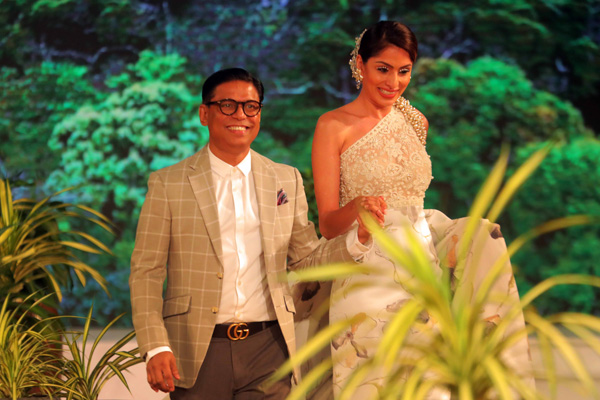 Showcasing their latest ethical, handmade and batik craft collection, La Pard by Dinushi Pamunuwa juxtaposed patterned plaids and checks with vibrant silk batiks in an effort to reimagine resort wear for women. With soft delicate silhouettes that were both feminine and chic and a touch of bohemian flair, some of the designs were accentuated with either an elasticized waist, empire bodice or backless opening. The prints were highlighted in sarongs as well.
La Pard by Dinushi Pamunuwa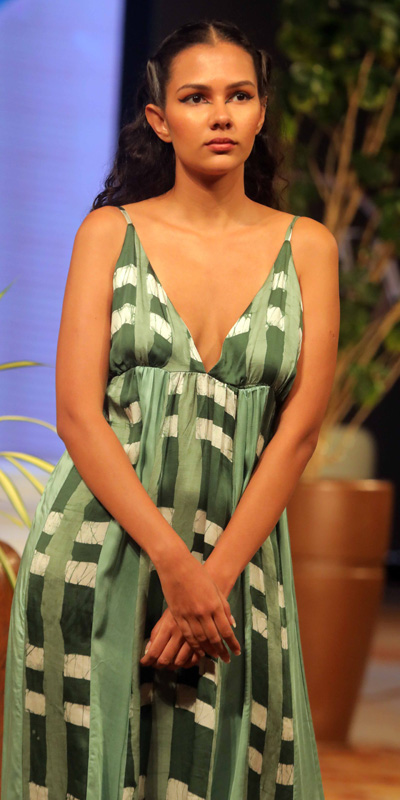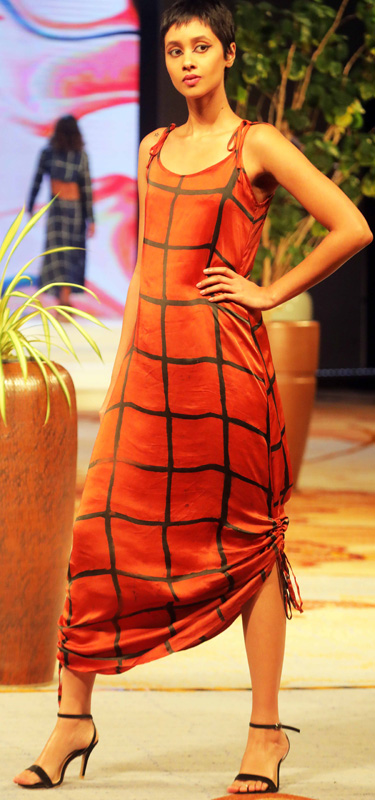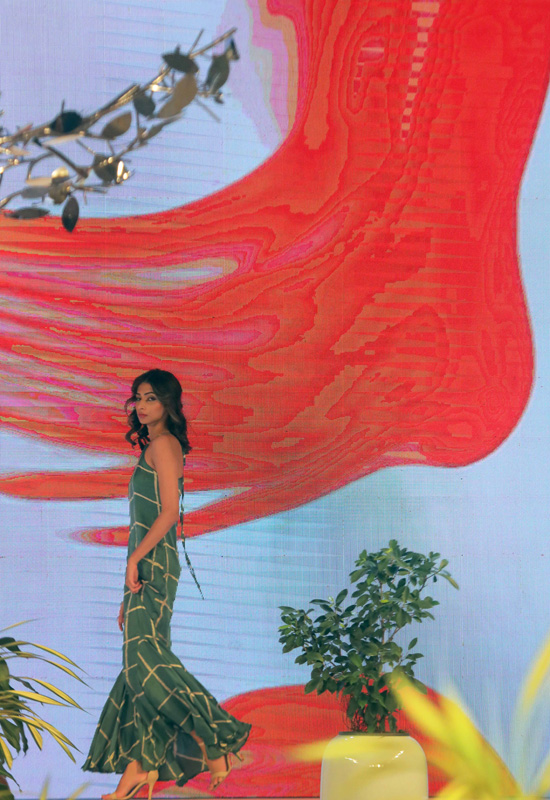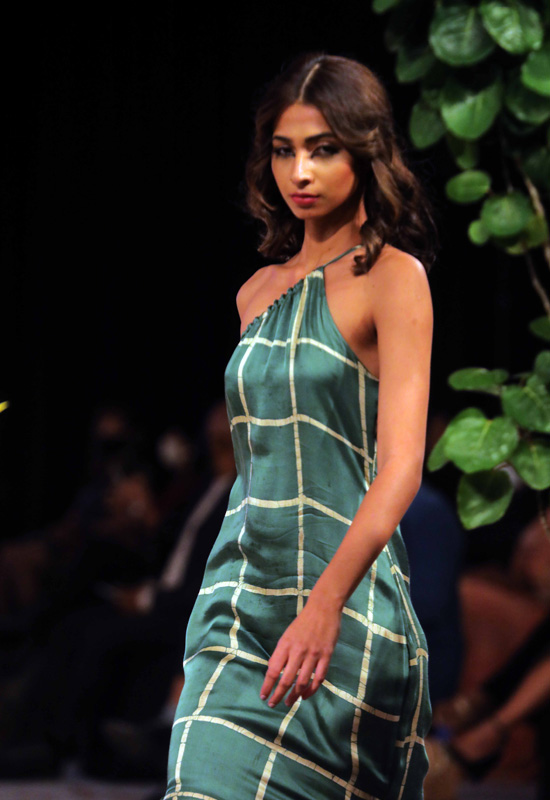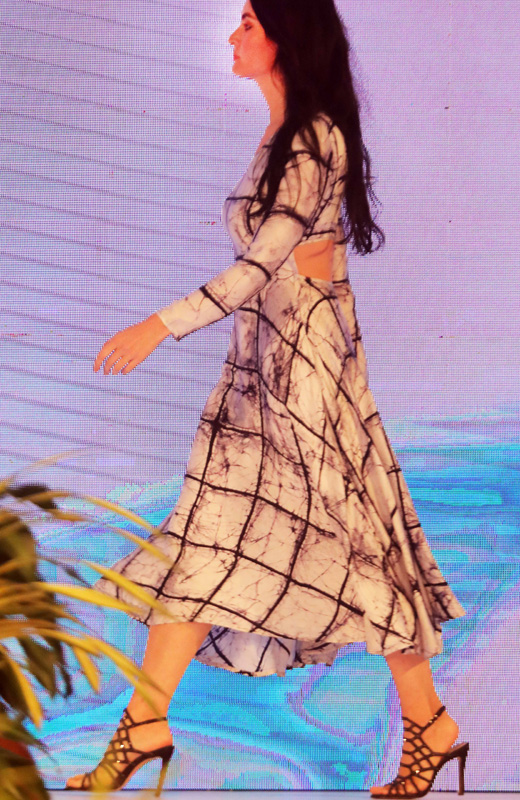 Making their debut at Colombo Fashion Week, Karma Collection by Tivon Prasad and Seema Moceri was an explosion of bold colours and fierce prints. Taking inspiration from the humble tea plucker as well as Frida Kahlo and Iris Apfel, the designs featured layered garments with full embroidered blouses and statement pieces with exaggerated bows, dramatic sleeves, tassels and headpieces. All about expression through fashion and channelling the confidence to express one's self, their collection was quite the head-turner.
Karma Collection by Tivon Prasad and Seema Moceri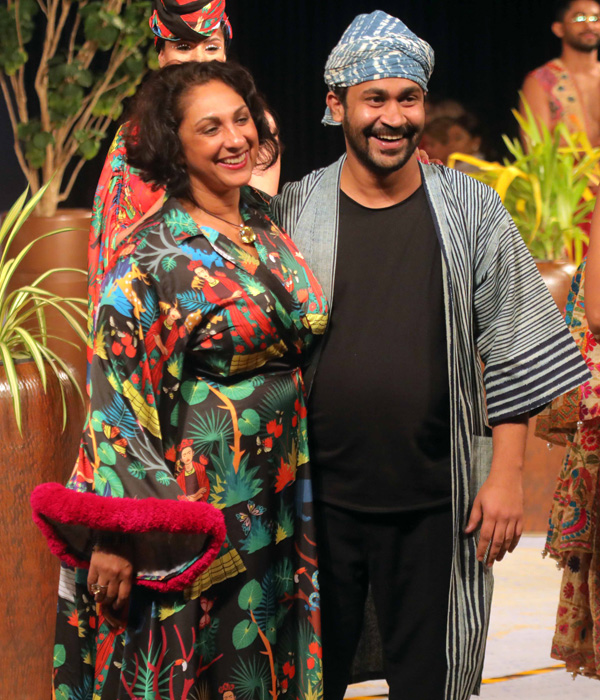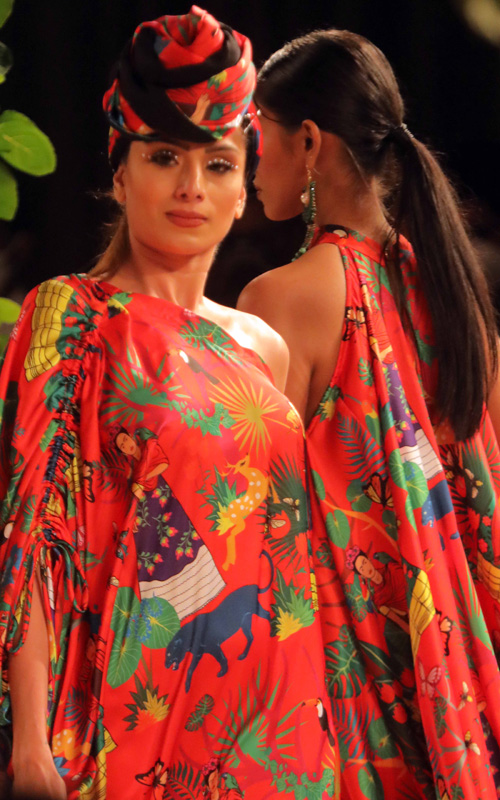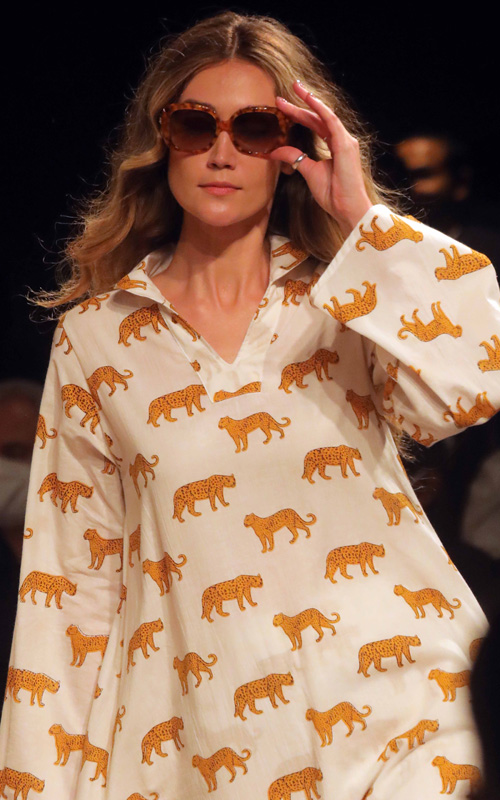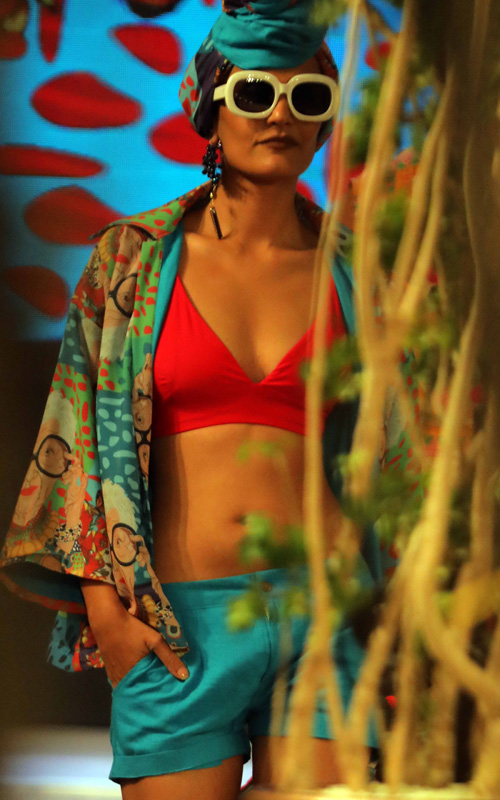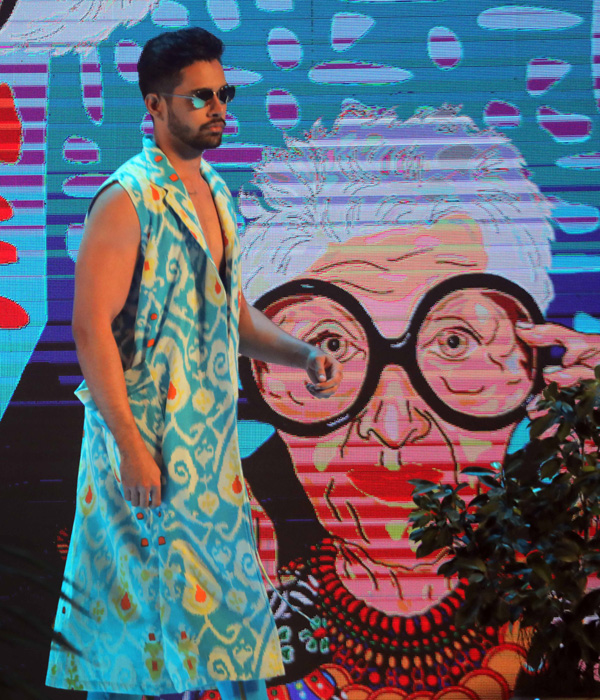 Starting off with dramatic silhouettes and following a rich colour palette, the CHARINI collection by Charini Suriyage brought Day 1 of Swim Week 2021 to a stunning close. Influenced by the northern city of Jaffna, the sophisticated line artfully crafted in handmade printed batik fabrics depicted the city, tasseled cords completing the look. The finale saw beautiful bridalwear suited for both an intimate or grand wedding ceremony.
CHARINI collection by Charini Suriyage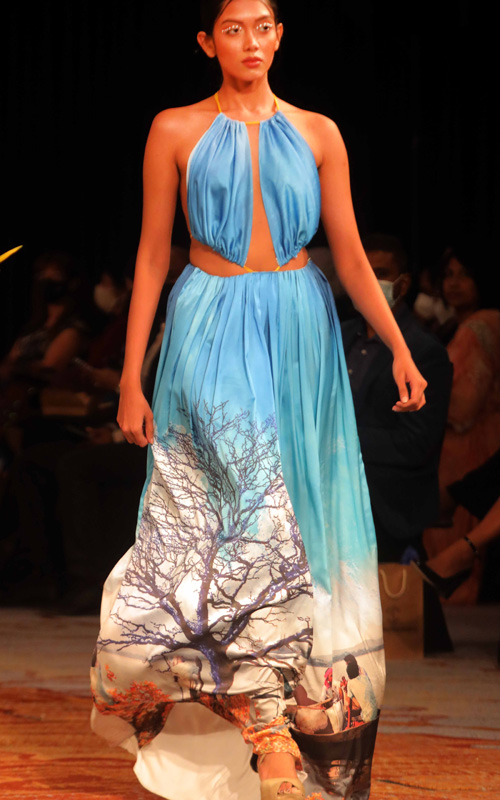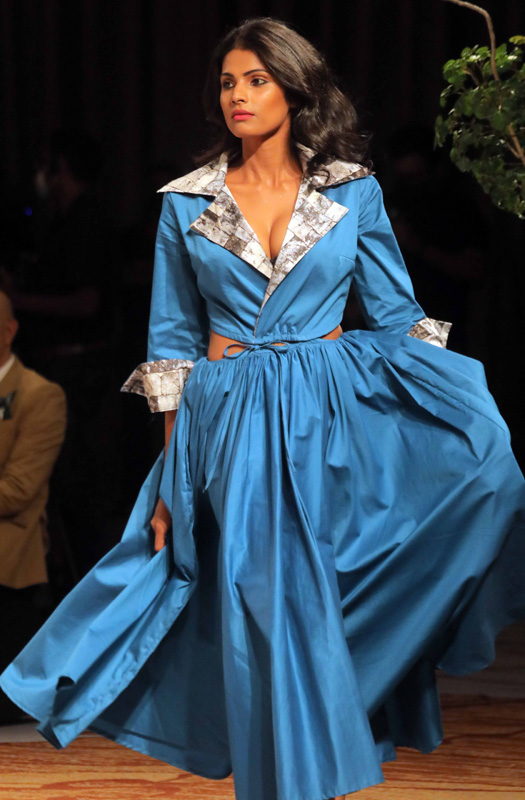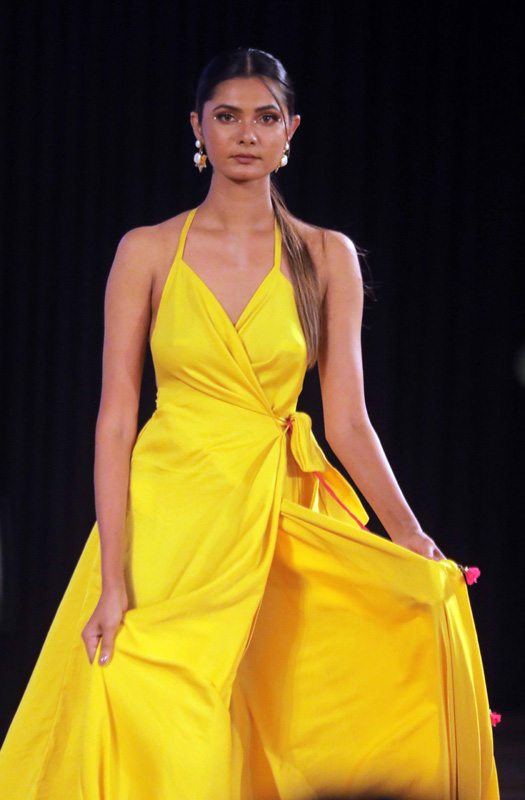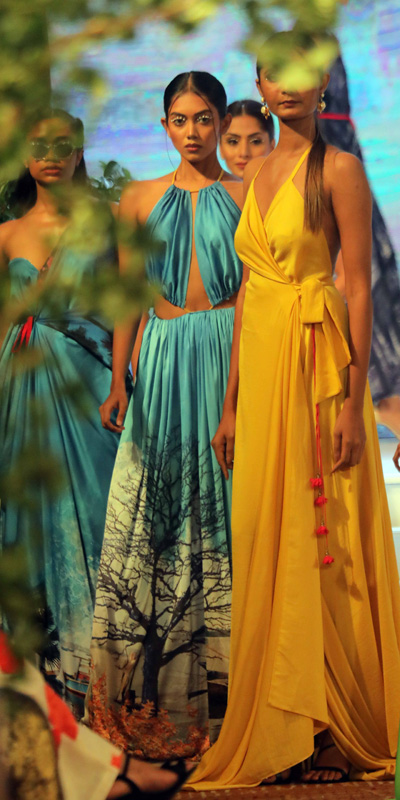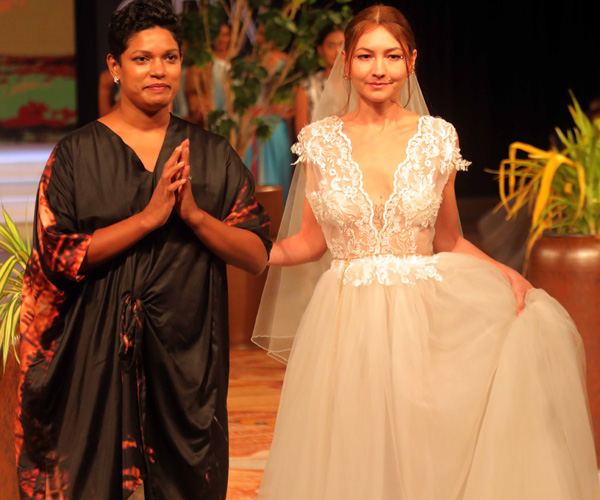 No doubt glad to have their designs on the ramp after the COVID-induced hiatus, the four designers certainly made an emphatic statement with their luxury resortwear that fashion is back!
(More pictures on Sunday Times: https://www.sundaytimes.lk/211114/plus/fashion-returns-in-a-burst-of-exotic-colour-461660.html)
Comments
Still No Comments Posted.