CEBEU to escalate union action
The Ceylon Electricity Board Engineers Union (CEBEU) escalated their trade union action to a work-to-rule campaign today (25).
They said they stepped up their action as the authorities failed to provide a favourable response regarding the six demands made by them.
The joint Secretary of the union, Dammika Wimalaratne said that they successfully commenced a work-to-rule campaign from early hours today (25).
He said that this was an escalation of the trade union action taken earlier, which was a non-corporation campaign against the Chairman of the Ceylon Electricity Board (CEB) that commenced on Monday, November 22.
Mr Wimalaratne said that a letter regarding their follow up union action taken from today onwards was handed over to the Chairman of the CEB yesterday (24) as a favourable response from the authorities was not received.
He added that they have taken union action siting six demands, which are; not to proceed with improper and illegal New Fortress Energy LNG deal, not to stop ongoing transparent tender procedure by CEB for LNG Deployment, to stop attempts of unbundling CEB, cease proposed amendments for the Board Act No 17 of 1969, prevent politicisation of General Manager CEB and to stop abrupt transfers of senior management.
(Pix and video by Eshan Fernando)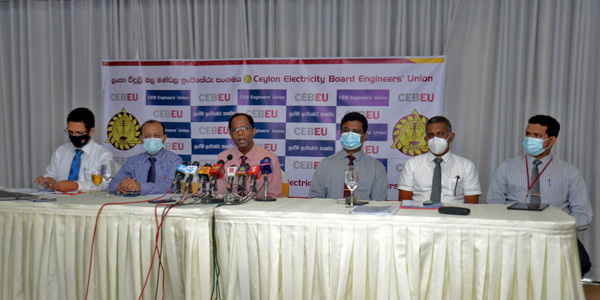 Comments
Still No Comments Posted.