Security beefed up in North ahead LTTE commemorative events tomorrow
Security measures have been stepped up in North and many parts of East in view of the upcoming Maveerar Naal- Martyrs Day events which are scheduled to be observed tomorrow.
Martyrs Day was introduced by the Liberation Tigers of Tamil Eelam (LTTE) in the early 1980s to commemorate its fallen cadres on November 27. The annual collective event saw thousands of relatives gather at LTTE Martyr's cemeteries to remember their loved ones who were eighter killed during wartime.
Tamil political parties and civil society organizations have organized public ceremonies to mark the day in selected areas since police secured court orders against organizing any such events under the Prevention of Terrorism Act (PTA) and COVID-19 guidelines.
Earlier three Magistrate Courts in Jaffna refused to issue orders preventing civilian-led Maveerar Naal- Martyrs Day- commemorative events this week to remember their loved ones under COVID-19 regulations.
Accordingly, Mallakam, Point Pedro and Chavakachcheri Magistrate Courts rejected the applications filed by the police today seeking court order to prevent any such commemorative events in coming days.
However, Jaffna Magistrate Court issued an order preventing such commemorative events under its jurisdiction after police filed an application early this week.
On Thursday, Mullaithivu magistrate court amended the order it issued to allow commemorative events without using any symbols or photographs of the LTTE organization.
Police filed applications under the clauses of Penal Code, Prevention of Terrorism Act and COVID-19 Health guidelines on the basis that the events could to the violations of the laws in the country.
However, police in other districts such as Kilinochchi, Mullaithivu and Mannar secured court orders against commemorative events under similar provisions. Refusing to grant orders, Magistrate Courts stressed that police can take action if regulations are violated in the events.
Meanwhile, at least a group of students attached to the University of Jaffna organized an event today inside the university premises to mark the birthday of slain LTTE leader V. Prabhakaran which falls today.
The University administration has instructed both students and academic staff today to vacate the premises by today evening as a measure to prevent any type of gatherings inside the university for commemoration purposes.
Security personnel and police teams are deployed at the entrances of the university today.
Another three youths from Gurunagar were taken into custody today by Jaffna police this afternoon for burning tyres on road to mark the birthday of the slain LTTE leader, according to the police.
Posters degrading the Martyrs Day and criticising LTTE inspired diaspora groups have been pasted in many towns across the Northern region ahead of the commemorative event tomorrow. (Pix N. Thayalan)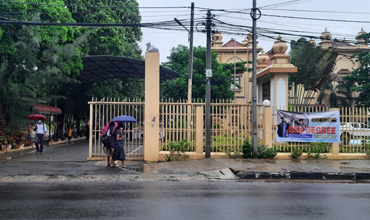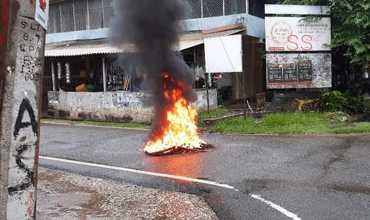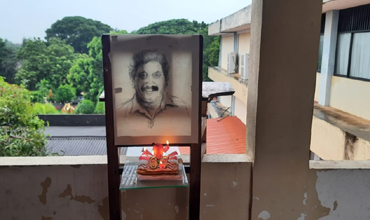 Comments
Still No Comments Posted.