Seven protesters remanded till July 1
Seven individuals including Youtuber Rathindu Senaratne alias 'Ratta', Lahiru Weerasekara and Jagath Manuwarana who surrendered to the police today morning over the unrest in early June have been ordered to be remanded till July 1 by the Colombo Fort Magistrate's Court.
On June 17, the court ordered the police to arrest nine suspects for rioting in Colombo Fort and Thalangama on June 9 and 10 and to produce them before court.
The nine suspects are Inter University Students' Federation (ISUF) Convener Wasantha Mudalige, YouTuber Rathindu Senaratne alias 'Ratta', national organizer of 'Youth for Change' Lahiru Weerasekara, Actors Jagath Manuwarana, Jehan Appuhami, social activists Dhammika Munasinghe, Rathkarachche Jinarathana Thero, Galwewa Siridhamma Thero and Eranga Gunasekara.
Several charges including criminal coercion, obstruction of duties of police officers, unlawful assembly, causing injuries and causing damages to public property have been leveled against them. Accordingly, among the nine suspects seven individuals surrendered to the police today while IUSF Convener Wasantha Mudalige and Galwewa Siridhamma Thero are still not arrested.
Meanwhile, several roads including Bank of Ceylon Mawatha were blocked this morning due to a protest in support of those who surrendered to the police.
The seven suspects surrendered to the Maradana Police came with a protest march and their supporters were seen protesting near the police station until the evening. Artists and social activists were among the protesters. The police recorded the statements of the suspects for nearly ten hours.
Meanwhile, it was reported that the suspects who went to the Fort Police Station earlier this morning have refused to be taken into custody by the police. Commenting on the incident, Lahiru Weerasekera and Jagath Manuwarana said that the Fort Police had stated that there was no facility to arrest them.
"As per the press release issued by the Police on June 17 mentioned that the Fort police have been ordered to arrest the suspects after submitting a B report to the court following a complaint lodged by them. But when we came to surrender to the police, they told us to go to the Maradana police station. We do not intend to go beyond that," Mr. Weerasekara said.
When The Sunday Times questioned the matter from the Police, they said that there is no such specific reason to refuse the arrest of the suspects by the Fort Police and when issued a warrant the suspects could surrender to any police station in the country.
The case against the individuals is scheduled to be taken up on July 5.
Meanwhile, a protest demanding the release of the activists was held in front of the Maradana Police station yesterday.
Pix by Akila Jayawardana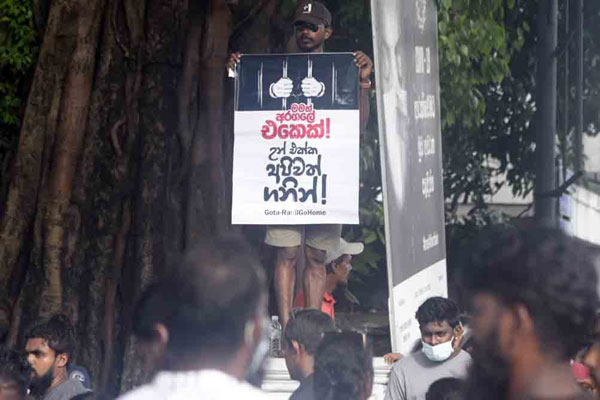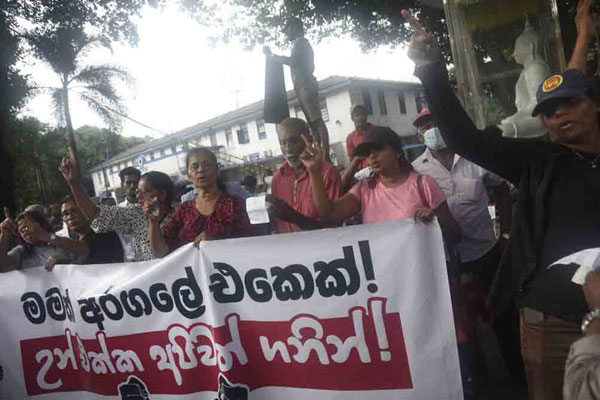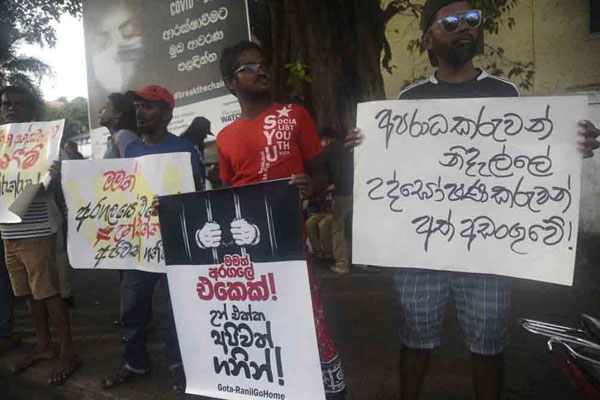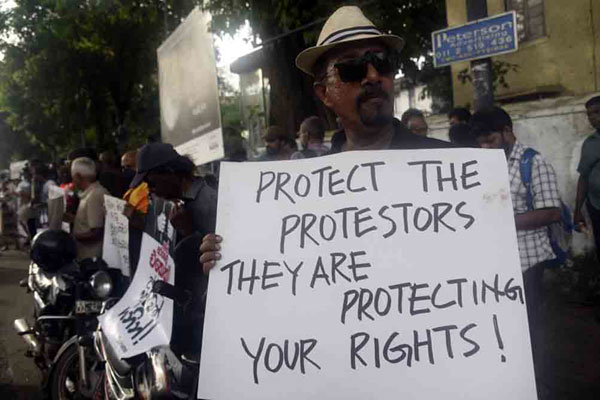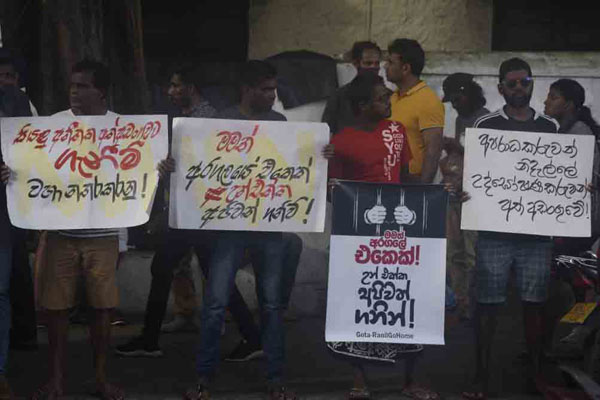 Comments
Still No Comments Posted.