Sri Lanka rules out refueling stops for non-scheduled aircraft and instructs all airlines to "strictly" carry fuel for return journey
Sri Lanka's civil aviation authorities last night issued a "Notice to Airmen" (NOTAM) advising that local airports cannot accommodate requests for refueling by non-scheduled aircraft.
They also advised scheduled aircraft operating to all airports in Sri Lanka "to strictly adhere to the requirement of carrying return sector fuel". "This requirement does not include diplomatic, humanitarian and emergency aircraft intending to operate to Sri Lankan airport," the NOTAM said.
The reason is given as "due to limited ability of Jet A-1 fuel at Sri Lankan airports". The Sunday Times reported yesterday that aviation fuel supplies are at critically low levels with the Civil Aviation Authority of Sri Lanka (CAASL) saying it was fighting to ensure they will last the week.
"The jet fuel situation is becoming very worrying," CAASL Director General Capt. Themiya Abeywickrama said. "The Ministry is involved in trying to get it sorted out. We are calculating till when we can run and hope to manage till the end of the month."
On Sunday, Power and Energy Minister Kanchana Wijesekera said the country will invite companies with capacity--including marine bunker companies--to provide aviation fuel. He said an entity had earlier been selected from six that had bid for the tender but that it had not delivered so far.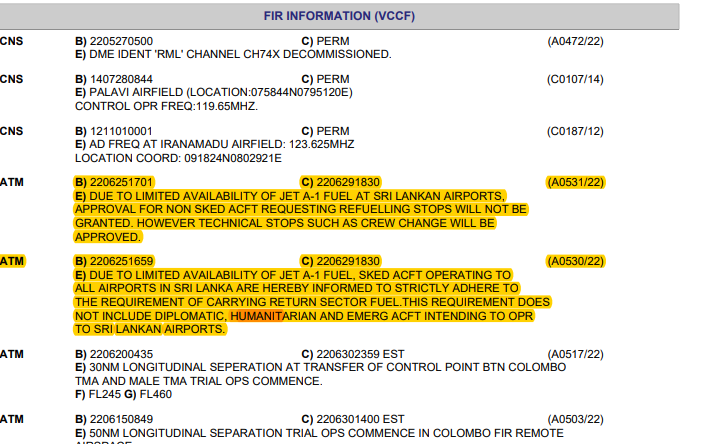 Comments
Still No Comments Posted.