Embassy of Sri Lanka gifts two Buddha statues to the Embassy of Cambodia in Berlin
The Embassy of Sri Lanka in Berlin gifted two Buddha statues to the Embassy of Cambodia in Berlin, upon a request made by the Cambodian Ambassador.
Mr Karunasena Hettiarachchi, Ambassador, officially handed over the Buddha statues to AmbassadorSopharath Touch, on June 7, 2019 at the Embassy premises. This meritorious act was assisted by Air Chief Marshal Kapila Jayampathy (Rtd).
According to a release, Ambassador Hettiarachchi highlighted that the gifting of Buddha statues was a token of friendship between the two countries, which are, in principle, following Theravada Buddhism. He further elaborated that both Sri Lanka and Cambodia can work together in Buddhism related matters and collaborate in religious celebrations and festivities.
The Cambodian Ambassador appreciated the gesture of goodwill and friendship of the Ambassador of Sri Lanka to gift the Buddha statues and assured Cambodia's engagement and participation in the future religious events organized by the Sri Lanka Embassy in Berlin.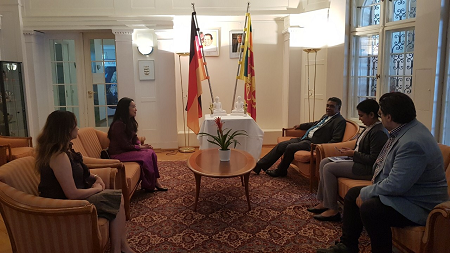 Comments
Still No Comments Posted.