Lankan students facing deportation in the UK graduates with first-class degree
Sri Lankan student Shiromini Satkunarajah who was told she would be deported managed to get a first-class degree after finishing her university course, the Mirror reported.
Shiromi was told that she wouldn't be able to finish her Electronic Engineering course at the University of Bangor in the crucial third year of her studies. But she won an 11th hour reprieve from deportation and bounced back to pass her degree.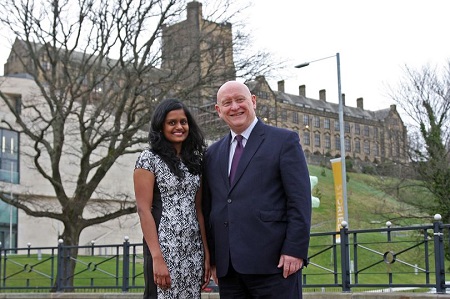 Shiromini Satkunarajah thanks Arfon MP Hywel Williams outside Bangor University for his help. Pic courtesy Mirror
Police arrested her and her mother as they made a routine sign-on in February, and they were kept in separate cells for two nights.
They were then transferred to Yarl's Wood Immigration Detention Centre in Bedfordshire, the report claimed.
But a petition calling for their release and to allow Shiromini to finish her degree, which she was three months away from completing, garnered 30,000 signatures.
Local Plaid Cymru MP Hywel Wiliams raised the issue in Parliament and with Home Secretary Amber Rudd .
A campaign organisation, Unis Resist Border Controls, secured the services of a top immigration lawyer before they were sensationally released hours before deportation, the Daily Post says .
Now, after immersing herself in her BEng Hons degree, the "model student" is on the verge of picking up a qualification some thought she may never finish.
She said: "I'd like to say a big thank you to everyone who's supported me over the past few months.
It has been a challenging time, but I've been overwhelmed by the messages of goodwill I've received, both from the local community in and around Bangor and from further afield.
"I'm so pleased to have been able to successfully complete my Electronic Engineering Degree at Bangor University and attain a first in the subject.
"I'm now focused on enjoying my graduation ceremony which takes place next week and I look forward to applying the skills and knowledge I've gained through my course at Bangor to the jobs market."
Shiromini and her mother came to the UK in 2009, fleeing war torn Sri Lanka to live with her father Satkunarajah Aiyampillai who was here on a study visa.
Before he died from bowel cancer surgery complications in 2011 Mr Aiyampillai applied for a visa extension but that application passed with him.
A series of applications to finish her studies came and went until her and her mother were arrested this year.
MP Hywel Williams said: "I'm extremely pleased to hear of Shiromini's success and her fantastic result. Despite the challenges she faced earlier this year, her resolve and commitment to her studies has paid off.
"I hope this will bring an end to the residency battle both Shiromini and her mother have been fighting for the last few months but my team and I will continue to support her in any way we can."
Comments
Still No Comments Posted.