Nanotechnology based technology to protect treated surfaces from dirt 
Ecocorp Asia last week launched Nanorepel, a surface protection system from Germany that uses nanotechnology to provide a reliable 'do-it-yourself' coating for every household in Sri Lanka.
The system uses incredibly thin layers of 'liquid glass' or quartz glass to coat surfaces. In addition to the positive properties of glass such as temperature resistance or resistance to acids and alkalis, these layers are characterized by high flexibility and extensibility as well as excellent dirt repellency due its anti-adhesive effect. Thus, a simple water or light detergent rinse can help regain the original appearance of any protected surface, the company said in a media release.
The company has imported three ranges of protective systems for automobiles, home and outdoor care along with cleaners to optimize the coatings. This 'do-it-yourself' range, with a simple 3-step process of clean, spray and protect, leaves surfaces with an invisible and odourless coating, which does not affect the appearance of the surface.
Sascha Schwindt, Managing Director of Nanopool GmbH, said, "Developments, especially those concerning the key industries of the 21st century, including nanotechnology, are moving at a breathtaking pace. Due to the Nanorepel product line, we can offer more diverse, suitable solutions, especially for the end consumer".
Nanorepel's Car Care range provides a comprehensive surface protection system that covers all surfaces of your car (interior and exterior). Whether it is rims, seats, windshields, or car body paint, Nanorepel has a specifically designed product for each surface.
The Home coating surface protection system can be used on several surfaces throughout the home, including glass and ceramic, textile and leather, and natural stone surfaces.
The Outdoor range offers added water repellent properties that prevent liquids such as rainwater from penetrating the surface. Coated clothes, shoes or bags remain breathable while mud and dirt can be easily removed with a simple water rinse.
Malik Fernando, CEO and Managing Director of Ecocorp Asia ( exclusive agents for Nanopool for Sri Lanka and the Maldives), said, "Having come across this product four years ago, my in-house R&D team has conducted extensive research to ensure that the product we are introducing works in our climate conditions. Furthermore I find this product to be a cost-effective solution for Sri Lankans who need an easy to use, long lasting and safe product.
With the rising cost of living, investing in a bottle of Nanorepel will result in seldom having to replace anything from your shoes to your home furnishing because of the protective coating it provides".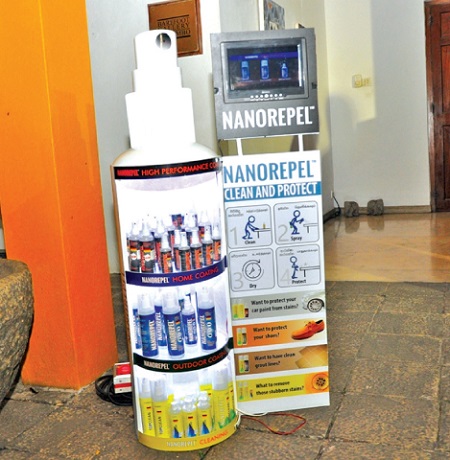 Comments
Still No Comments Posted.