A day like this 35 years ago INTAKE 20 was Commissioned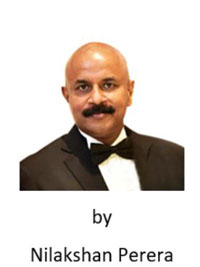 On a day like this 35 years ago there was a call for brave patriotic youth to come forward for safeguarding the Nation. For this call there were 1039 applicants. On 18th of January 1985, after a series of six interviews, young blood from leading schools who excelled in Sports and extracurricular activities at College and National level were selected. It is a unique achievement and indeed anhonor for thefinally selected 35 of them to gather at Army Headquarters. After saying goodbye to our loved ones, and we literally took our first steps to embark on our chosen career we knew what the future would be. It was not going to be a bed of roses, but someone hadto take on this challenge. Indeed, all 35 candidates who were selected were denial of prospect of cushy, white collar jobs inair-conditioned offices, they answered this call from their hearts.
These 35 smart young prospective officers were seated in an Army bus while theirtheir baggage / trunks were loaded into an Army 1210 TATA truck, and left Army HQ by 1730hrs heading to Army Garrison Diyatalawa. It was around 0110hrs of early morning of the19th,when our journey came to an abrupt haltnear the Polo Grounds of Diyatalawa, which is the one and only naturally built grounds in Sri Lanka. We were asked to get off the bus, as the engine was overheated and boiling, and we were informed by Staff Sgt Dharmasena of the Artillery Regiment and Sgt Piyasdasa of Gemunu Watch to get offthe bus as it would not be going any further.
To our surprise the bus as well as the truck could not be started. We naturally assumed that it may have been due to continuously driving without a rest for over six hours. Even though we were dressed in full suits, as we got down from the bus the freezing cool climate of6-7o C virtually froze us in our tracks. No sooner we alighted the bus we were asked to run to a place called Pandama, which is a unique symbol of the Military Academy, where a burning torch isplaced on a lamppost. This eternal flame symbolizes life, dedication, and regenerative power.By the time we were running through the Military Academy Main gate all of us were shivering and had glimpses of the Parade ground, and the ground was covered in dew, shining in crystal white. Beyond the ground we saw a huge Makara Thorana(Dragon Arch), the only dream of passed out young officers' march through it. Just as we reached the Pandamathe bus and the truck which were supposedly stalled also had arrived at the same spot! It was only when we were asked to unload our baggage that we realized that there was nothing wrong with the vehicles and they only wanted us to enter the Military Academyon the double which was a long-established tradition.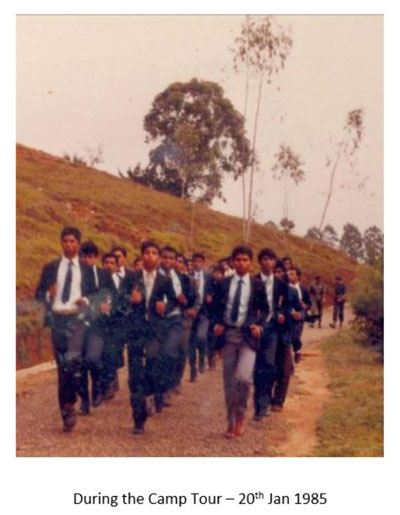 TheFull Moon wasshining brightly on a clear sky as it is a Poya day, and we could see the surrounding area more clearly. We were taken to a place called Beast Billet, which was to be our "home" and our sleeping arrangements were shown. There was a smart Warrant Officer andshowing us the green bushes and grass area, in a commanding voice announced that he wouldexpect us to clean and have it nicely arranged in the day time as being aPoya day he didn't want to see any reptiles on the ground, and then asked us to go to sleep.
The next morning after our breakfast we were asked to get into our PT kit,and Sgt Piyadasa took us to Army Q stores and drew us tools such as mamoties, knives, grass cutters etc. to clean the grass and shrub area.Later in the evening the same WO addressed us to be ready in our full suit as he is to take us on our CAMP TOUR next morning
This Warrant Officer1 wasMr. Chandra Abeykoon, who had just returned from theGuards Depot at Pirbright in UK. His boots were polished to such a shiny finish one could literally use them as a mirror and his uniform was impeccable.
Next morning, we were dressed in Blazers and full suits andtaken to Army Q stores and were issued with various items, such as Mess tin, water bottle, cup and plate, ground sheet, boots, canvas shoes, blankets, beret, etc. and we were asked to put all these Army issues into a gunny bag like thing calledaAli Kakula, as the bag resembled the leg ofan elephant. We were then taken on our CAMP TOUR.
We were accompanied by WO Abeykoon, Staff Sgt Dharmasena, Sgt Piyadasa, Sgt Wijeratne and PTI CplMendis, showing us the boundaries of the Military Academy and Out of bounds area, Recreational grounds, Cinema Hall, Polo Grounds,Halangoda Lake, White gate ( a small white gate placed in a hill top of the Polo Grounds, where the entrance to Officers' Mess of Gemunu Watch). The entire tour was done on double, and that was our mode of transport for the next 6 months, - no walking. Everywhere we went we had to go on DOUBLING, sometimes in forward roll, (a Hybrid vehicle)
Our Chief Instructor was Maj Nihal Marambe of Armoured Corps and our 1st Course Commander was Major Gamini Balasuriya of Armoured Corps,and later Capt Rohan Induruwa from Sinha Regiment,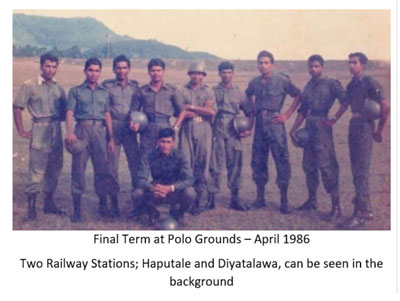 Our billet was called BEAST Billet, as the name implies, we were like beasts, with no relaxing and we were always on the move, one after the other.Our only consolation was to receive a letter from loved ones. From Beast billet we could see three railway stations clearly at night if there were no mist, those were Iddalgashinna, Haputale and Diyatalawa. We often imagined that we were seated inside the train and going on vacation, even assuming that afew were crying too! We were waiting to hearthe sound ofthe train approaching through hills of Idalgashinna. We could see it like a set of box of matches moving slowly earlyin the morning when we getting ready to go on PT, and we knew that our letters will be there by afternoon, and in thesame way our letters would be carried in the night mail train leaving Diyatalawaevery evening at 1940hrs. It was a part of the Duty Cadet's list of duties to collect the daily mail from the office and also to hand over any mail that was to be posted.All of us were delighted to receive a letter or two from loved ones. While those of us who got mail were rejuvenated, the few who didn't get any mail were disappointed and even dejected. Getting mail was one of the few joys of life we enjoyed at that time.
We were taken for Physical Training, marching practices, weapon training, map reading, field craft, and tactics during morning sessions. In the afternoon session we studiedleadership, Militarylaw, Current affairs and English. We were taught Tamil by a civilian teacher from Bandarawela. He was the only civilian teacher we had and all of us were very relaxed and enjoyed his lessons as wellas recreational facilities and games we had in the evening.
During the next few weeks, we were transformed from fresh youth-hood and molded into tough military personnel as we were ready for any uncertainty. We never looked at our bed nor dreamt about a good cozy sleep under misty breezy conditions of Diyatalawa, because we never knew what will be happening at the next moment. No two nights were the same but soon we were well prepared and masteredto deal with all uncertainties.Sometimes we were even ostracized and mocked.
We were blessed with our 1st day out after 6 months on passing the Drill test and PT tests.We had to do several changing parades in front of Senior Intake 18A andlater with Intake 19, before we could go out. They checked our attire, Blazer, shirt, tie, belt trouser shoes, socks should have to match with each other,and we had to have a proper shave and generally be well groomed. We all flew to Bandarawela Town like pigeons let out from their cages. Some were at Restaurants;some went to Tailor shops and few went to Cyril Studio for a photo shoot. Taking Telephone calls to loved ones from Bandarawela Post Office one after the other, as in those days there were no mobile phones, needless to mention about WhatsApp, Viber, Facebook, twitter, Instagram as those words we have never heard nor inour vocabulary. Wherever we went we had to watch our steps and go in pairs, because we never knew who would report our wrong doings to SLMA as everyone in town knew where we came from and what our future mission was.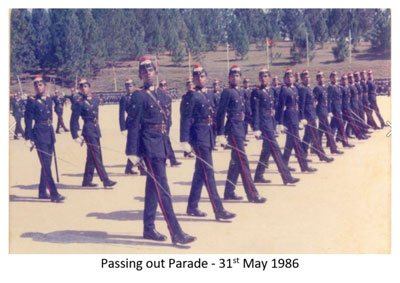 Soon, to our great delight we got sharing rooms and our 1st vacation of 7 days after passing the drill test and PT test. However, during this vacation each of were assigned with a task of finding details and materials for our Presentations of leading Political, Military, and famous figures. We were expected to beready with view files, photographs, scriptures, slides, and booklets. We had to do much research and dwell into endless pages to find all these details as there was no Google those days. It was a nightmare to prepare and present them to officers, in a series of repeated sessions till the midnight. But those were invaluable later in our lives.
Our senior Intake 19 passed out in November 1985 and we became the senior Intake now. We were assigned individual rooms. There were Lady Intake 3, SSC (Short Service Commission) Intake 5,6,7,8 with Intake 22 & 23 time to time. There were 7 Service Cadets from KDA after completing their three and half years of University Degree cum Military training joined us fortheir finalterm, by that time Intake 20 were under the watchful eyesof new Couse Commander CaptJayavi Fernando from Gajaba Regiment, an amazing military hero who has achieved many FIRSTS in his career. Looking through the mirror of history, he has always placed his great talents at the service of his organization whenever there was call to duty. He never dodged a responsibility, never refused to take on a hard job if it needed to be done. What he believed, he believed with heart and soul. In very brief, he is a patriotic Sri Lankan, distinguished military officer, a great leader, an affectionate brother to all servicemen and was loved by all his superiors, peers, and subordinates. His premature retirement as Colonel was a great blow to the Army.
We were taken to firing at Firing Range on various occasions including night firing as it had been a part and parcel of our training. During our truck trips to the firing range and at the Cadets' Mess after dinner we used to sing songs like Ae NeelaWaraPeerala by Dhanapala Udawatte&ThilineLesinby Three sisters and Asoka Malby MS Fernando were the most popular songs.
We were taken on Field Exercises to famous FOXHILL for SEETHA SULANG, GRAVE DIGGER at Guruthalawa, Ambewela for FROZEN TROUTE living in trenches for 6 days with leeches and misty drizzling unpredictable weather continuously. Then Ex Wanabambara was marched inside thick jungles off Wellawaya for 14 days. Then Ex GOD KING down Kataragama. Ex SCORPION enforcing curfew in Welimada/Kappettipola area to search for insurgents.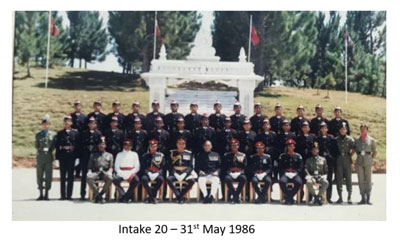 For the PARENTS DAY our parents were invited in Feb for a full day program to witness their sons being molded to Military life.
With lot of endurance and enthusiasm three times we ran 9 miles with 20 Kgs of backpack and weapon from Bandarawela/ Welimada Road bridge, passing Bandarawela town, Kahagolla, and CVF camp to Army Gym.
Intake 20 BOXING MEET was held on 11th April 1986, at the ATC Gymnasium. We were grouped according to our weight and had the tournament.It is not a friendly CHARLIE CHARLIE game, and we were told to get blood out of our opponent,that's it………... Rest is history. All Officer Instructors of SLMA Capt Rohan Jayasinghe, Capt Jagath Rambukpotha, CaptArunaWijenayake,Lt Mahesh Senanayake, were there to judge the tournament and Commandant Col Rohan de S Daluwatte was the Chief Guest.
On Vesak Poya, after dinnersome trainee teachers of Bandarawelaperformed BhakthiGee for us at SLAM Cadets' Mess. Once they left few of us asked permission from Course Officer to go out to see Vesak decorations.Instead of going out all Intake were asked to go round the Cadets' Mess singing BhakthiGee, and it went on for3-4 hours nonstop as we were going round and signing. After that no one asked to go out to see Vesak celebrations.
In May we were taken on Unit visits. We all were stationed at KDA for 8 days during this period we visited all units' HQs in Colombo and Panagoda. Once we came back, we were given Motorcycle riding lessons at Polo grounds. In the mornings we were preparing for the Passing Out Parade to be held on 31st May.
After Intake 16 we were so honored to have an Under Officer from our Intake. That was Wipula Seneviratne, as he came first in order of merit.For our Passing Out Parade (POP) Gen Dennis Perera came as the Chief Guest, the first Commandant of Army Training Centerand former Army Commander
After Commissioning as 2nd Lieutenants, we were taken to Maduru Oya for further Infantry Training course and then proceeded to our respective Units.
First two of our batchmates were selected to go to Sandhurst in UK for further training they were 2/Lt Wipula Seneviratne and 2/Lt Prasanna Perera
It wasa unique achievement for the Intake as Officers of Sri Lanka Army went to Sandhurst after a lapse of many years.
During this time, all our batchmates were fully engaged in National duty either in the North or the East. With deep sorrow and highest gratitude, we recall the names of our beloved batchmates who made the supreme sacrifice in defending our Mother Lanka for future generations. They wereLt Sanath Samarakoon GW (27/08/1986 Nillaweli) ,Lt Ananda De Silva SLA (07/10/1987 Mannar),CaptWipilaSenevirathne SLA (15/04/1988 Athurugiriya),Maj Prasanna LiyanagodaVIR (30/07/1990Mannar),Maj Devamiththa Dissanayake GW (01/05/1991 Trincomalee), Lt Col B C K L Silva SLLI (13/09/1995 Plane Crash / Kandana), Lt Col Shantha Jayaweera SLLI (17/11/1995 Jaffna) Maj Srinath Wickramasinghe SLLI (26/12/2007 Tsunami / Thelwatte), -- Maj Ravi Dissanayake SLASC (20/07/2018 Mil Hospital).
When we lookback, we could say that we have marched through hills and valleys under extremely difficult conditions with utmost dedication and commitment.
Our Maj Gen Rohana Bandara represented SL Army Rugby for several years in pivotal No 8 position with great repute and was the Commander- Task Force 2 during the final Vanni Liberation
One of the Galant Infantry Officers Maj Gen DushanthaRajaguru was the Commandant of prestigious Sri Lanka Army MilitaryAcademy(2014-16), It was another great appointment held by our batchmate.
Another batchmate Maj Gen Nirmal Dharmaratne,an officer with wonderful temperament enjoyed a splendid reputation of a "Daredevil Skydiver", well over 200 parachute jumps under his belt. He deserves the Nation's salute for his crucial role during the victorious Humanitarian operation as the Commander of the elite Special Forces. Its indeed a great honor for Intake 20.
When Gen Hamilton Wanasinghe was appointed as Joint Operation Commander in 1996 and later, he elevated as the Secretary of Defense he selected one of the talented and capable Gunnery Officers Maj GaveshGinigeas his ADC from our Intake.
Few of our gallant warrior batchmates were awarded with WWP RWP RSP USP VSV for their Loyal, dedicated, committed,selfless brave deeds and unblemished service in warfront as well as for their academics they were bestowed with USAWC ndcpscnduLscand HDMC
With immense sacrifice and highest integrity and unblemished repute to the Army our beloved batchmates were appointed to top Military appointments such as Chief of Staff Maj Gen Jagath Gunawardane, Deputy Chief of Staff Maj Gen Nirmal Dharmaratne, Security Forces Commander Wanni Maj Gen DushanthaRajaguru, Security Forces Commander Central Maj Gen NishshankaRanawana, Security Forces Commander East Maj Gen DhammikaPananwela, Chief Signals Officer Maj Gen Renuka Rowel ( present Director of Center for Research and Development-CRD), Maj Gen Rohana Bandara, Director General Sports, presently he is the Director of Sports at Army Sports Complex Diyagama , Colonel Commandant & Chief Signal Officer Ajith Wijesinghe, Director Infantry Maj Gen Duminda Kappetiwalana, Director Ranaviru Authority Maj Gen Priyantha Napagoda, Judge Advocate Maj Gen Ranjith Rajapathirana,Maj Gen Lal Padmakumaraas Director Budget and Finance, Maj Gen Shantha Liyanage Colonel Commandant Service Corps and Commandant Army Logistics School, Maj Gen IndrajithPeramunagamage Commander Forward Maintenance Area - Jaffna, Maj Gen Ranula Rajakaruna Colonel Commandant Electrical & Mechanical Engineers,Brig Mahesh Perera Center Commandant Corps of Engineering Services and BrigJalika Jayasekera Director Training Civil Defense Force
All of them are retired now enjoying various appointments in civil establishments after doing their great services to the Nation with utmost pride and velour. Most of them are residing in Sri Lanka and few have gone to foreign soil seeking green pastures. They are few Chairmen, Managing Directors, Directors, Financial Consultants, Civil Engineers, Judicial Officers, Academics,Landed proprietor,Politicians etc.But still they are well connected with each other and reminiscing good old nostalgic memories whenever they meet at gatherings., Few of our batchmates opted an early retirement,Lt Col KelumFernando,Lt Col PalithaSirimal, Lt Col BhathiyaWeerasekara, Maj Prasanna Perera, Maj SaliyaWeerakkody, Maj Kumara Senarath, Maj VirajaLeelaratne, Maj ArunaWithanage Maj Sunanda Mendis,MajRanjith Samarasinghe,Capt Lanka Illukkumbura, Capt Priyantha Nanayakkara. Lt Lalith Rupasinghe,Lt AselaUnannthenna. Not forgetting an officer with a big heartMaj GaveshGinige, (Chairman of a leading Security Company) who leads ourEntertainment Command Center for all gatherings and bonding all of us as one family. Gavesh'scommitment, brotherhood and comradeship is highly appreciated by all.
As Intake 20 celebrate their 35th anniversary as Commissioned officers let me salute all our dear batchmates who have laid down their precious lives for our future generations. May your journey in Samsara be short, May you all finally attain Supreme bliss of Nibbana and Rest in Peace eternal.
And best wishes to all my batchmates for their future endeavors
Bravo Intake 20!
Comments
Still No Comments Posted.