Revisiting Kotelawala legacy as KDA intake marks 40 years
By Nilakshan Perera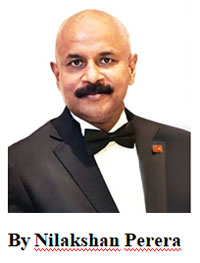 Forty years ago, on 28th September 1981, 28Cadets were officially enlisted to the (then) Kotelawala Defence Academy (KDA). They formed the 2nd Intake of this prestigious Military Academy. The very firstintake of Service Cadets were enlisted to the KDA on 1st March 1981. Since then, hundreds of young men and women who graduated from the KDA (and later as the Kotelawala Defence University – KDU) have served the Nation with distinction not only as Military Officers but also as professionals and experts in different fields.
In 1979, Sri Lanka Armed Forces recommended to the Government of Sri Lanka a course of higher studies, which would enable young officers to gain higher academic qualifications.Then a team led by Maj VSM Jayawardane which included Academics Prof PatuwathavithanaDean University of Moratuwa, Prof PW Epasinghe Head of Mathematics from University of Colombo, Prof Kularatne and Prof Fonseka also from University of Colombo, visited the National Defence Academy (NDA) Pune, Maharashtra, India, the first ever Tri services University in the world. Within two weeks of their report being submitted.Former Prime Minister Sir John Kotelawala, having understood the necessity of a suitable location for the proposed Defence Academy, informed the Commander of the Army Lieutenant General JED Perera of his intention to donate the48-acre Kandawala Estate,together with all it'smoveable and immovable properties to the Government for establishing a Defence Academy. This offer was gladly accepted, and initial steps were taken to set up the Academy.
On 1st October 1980, His Excellency the President J R Jayewardene together with the Army Commander Lieutenant General JED Perera and his ADC Capt TM Bohoran went along to Sir John's bedside at Colombo General Hospital where Sir John was undergoing treatment in a,special room at the Cardiology unit and bestowed on him the honorary rank of General.
General Sir John Kotelawala passed awayon the 2nd of October 1980 and was accorded a grand state funeral with full military honours. He was further honoured by the Government and the Tri Services by naming the academy after him.
Then Commander of the Army immediately appointed Maj VSM Jayawardena to takeover Sir John's mansion and all his belongings as stated in his last will.
The Academy was formally inaugurated by HE the President J R Jayewardene on 11th October 1980, at a ceremony held at Kandawala Estate in the presence of the three service Commanders, Senior Officers of the Tri Services, and other dignitaries.
The initial KDA Staff consisting of Service Officers from the three Services moved into the premises in January 1981. Gen Denis Perera took a keen personal interest and played a pivotal role in establishing the Sir John Kotelawala Defence Academy (KDA).
The Headquarters of the KDA was established at theKandawala Walawwa. Colonel CAMN Silva (popularly known as Col Mike Silva) was the first Commandant of the Academy. Deputy Commandant was Lt Cdr IKG Lokubalasuriya. The other key officers were Adjutant Major VSM Jayawardhana, Squadron Commander Major LCR Goonewardene and Troop Commander Flt Lt SankaWijesinghe and Capt Raj M Fernando as English Master. For transport the entire KDA had only the Commandant's car, a TATA 1210 Army truck, one Mahindra Jeep and one Motorcycle for dispatch riders. That was the beginning of this great institution.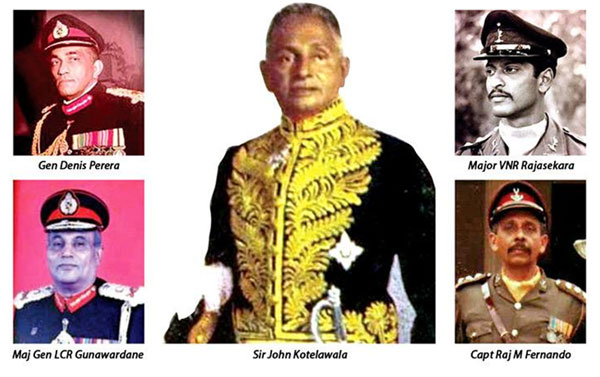 Very first Intake of Service Cadets joined KDA on 1st March 1981.13 Cadets attended the University of Colombo to read for BSc Physical Science Degree and 19 attended the Universityof Moratuwa to read for the BSc Engineering Degreeand 2 for Degree in Architecture.
Then in July 1981, there was a half-page advertisement published in all newspapers requesting applications for Service Cadetships of KDA.There were 3400applications, and the first interviews were held at Army HQ, BaladakshaMawatha, with a few senior officers of the three services headed by Brigadier Cyril Ranatunge. For the second interview 200 were selected and interviews were held at Rock House Army Camp, Modera for Officer Quality Test (OQT). Aftercompleting the Medical Test, the selected candidates faced the Final interview at the Ministry of Defence with a special panel consisting of the Secretary of Defence Col. CA Dharmapala,Commander of the Army Lt Gen Dennis Perera, Commander of the Navy Rear Admiral Ashoka Perera and Commander of the Air Force Air Vice Marshal Dick Perera.

After the final interview, 28 candidates were informed by letters sent under registered cover of their appointments. They were also provided with all required information including what they should bring with them. Thus 28 Service Cadets were enlisted toKDA intake 2 on 28th September 1981.
The Cadets were to followUniversity lectures in streams for which they were selected for, namely Engineering, Physical Science and General Arts. Engineering Cadets attended lectures at Moratuwa University and they were given bicycles to travel to University. Physical Science as well as General Arts Cadets attended lectures at Colombo University and the Tata1210 Truck was assigned for their transport. For them Broody House atBullers Road was the rendezvous point. Lunch was provided by the Volunteer Service Corps at the Old Race Course building.

During Weekends and University vacations Military training was conducted at KDA premises.
In addition to the stipulated curricula of the respective faculties the cadets attended classes inMap reading, field craft, obstacle courses, leadership studies, weapons training, recreational activities, and English.
Dinner was served at the Cadets' Mess. This was a formal affair with all cadets dressed in uniform or smartly dressed in shirt and tie, Evenwithout realizing all cadets gradually sharpened their social graces and formal etiquette. After dinner all congregated at Sir John's Bungalow for a bit of relaxation.The Cadet Bar was patronized for their refreshments. By 8.45pm all went up to the first floor of the Bungalow for their private study. Dinner Nights were regularly held in the stately Dining Room of the Walawwa. All these activities helped to mould the cadets into fine young men worthy of holding a Commission in our Defence Forces.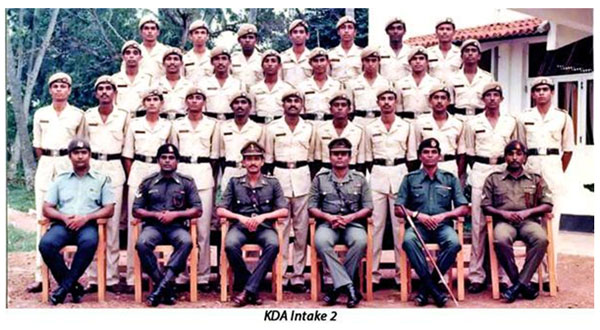 Major LCR Gunawardane, the Squadron Commander (retired as the Chief of Staff in 2002 as Maj Gen) with Troop Commander Late Capt VNR Rajasekera(retired as Major in Nov 1987 and passed away on 18th Jan 2016 in USA) and CaptRaj Fernando (CadetCorps Officer and well-respected English Master of Prince of Wales College) were the live wires and provided the necessary initial infrastructure for Cadets at KDA. Maj Gunawardana and his newly wedded wife Mrs ChrishanthiGunawardanewere frequent visitors on weekends on their 8 Sri XX68 orange color Vespascooter. She too scarified her quality family time for the welfareof Intake 2 cadets. Not to be forgotten were her home baked cakes and pastries which were treated like food from heaven by Cadets. Maj Gunawardane initiated andestablished all procedures, course materials and moulded raw young civilians to a military officer. He conducted Military lessons day and night including weekends. We all still refer to the couple as Dad and Mom of the academy with much affection and gratitude.Capt Raj Fernando gave all support to Maj Gunawardane and Capt VNR Rajasekera for upbringing Intake 2. Capt Fernando was the main architect of the KDA library, sourcing books on military history, political affairs, travel, geography,periodicals and Sir John's photographs and albums which were most interesting and of much historical value.
Intake 2 Passing-out Parade was held on 7th May 1985 at Ratmalana Airport with Hon LalithAthulathmudali, Minister of National Security and Deputy Minister of Defence as the Chief Guest. At the passing out parade the Sword ofHonour was presented to the best all round Service Cadet and 1st in order of merit was awarded to Squadron Under Officer Renuka Rowel. The other cadets who received special awards were, 1st in Military Studies Service Cadet Sgt VirajaLeelaratne, Best Sportsman Service Cadet Sunil Wanniarachchi and 1st in Character Grading Service Cadet Sgt Palitha Saputhanthrie
Then all officers of KDA Intake 2 proceeded to their respective services final training and then went on to perform their National duties safeguarding the Nation by land, sea and air to the best of their abilities.
On 18th of Nov 1992 Naval Lt Sandun Gunasekera who was the Flag Officer to Commander of the Navy Admiral Clancy Fernando sacrificed his precious life for the Motherland. They were assassinated by a LTTE suicide bomber who drove an explosive laden motorcycle on to the Navy Commander's staff car. Losing a batch mate who was dear and near was unbearable and a great tragedy.Sandun was a brave and dedicated officer, and he was handpicked by the Navy Commander to be his Flag Lieutenant because of his exceptional qualities.
Brigadier Renuka Rowel (then) the Signal Brigadier Commander dedicatedly coordinated the Electronic Warfare (EW) activities of the Humanitarian Operation until the last stages leading to 2006-2009.
The Coastal Surveillance Radars and Battlefield Surveillance Radars (BFSRs) were positioned along the coastal belt and the FDLs to detect any LTTE infiltration and to obtain early warnings of such movements.
The Direction Finders and the Jammers modified by the Signal Workshop under the able guidance of Brigadier Renuka Rowel were deployed to provide the much-needed electronic support to counter measure enemy actions. Mobile Direction Finders and Radars that were fabricated under him were used to attain mobile and flexible direction-finding capabilities.
As the Signal Brigadier Commander of the Humanitarian Operation, he carried out a pivotal role through brilliantly coordinated supportive measures with all the divisional commanders and the Army Commander, Lt. Gen. Sarath Fonseka.
On Feb, 13, 1996 as Commanding Officer of SLNS Ranajaya Lt. Comd. SisiraJayakody together with his fellow officers of SLNS Jayasagara, SLNS Weeraya and SLNS Ranadeera destroyed M/V Horizon (Vessel changed her name while sailing across Bay of Bengal) carrying large quantities of weapons, ammunitions, and explosives for the LTTE, worth millions of US dollars believed to have been purchased from Cambodia.
In 2007, Commodore SisiraJayakody as the C/O of SLNS Suranimala with four SBS teams participated in unprecedented deep sea operations lasting over a week, named "Operation Hunter Killer IV" from August 31, to September 7, 2007 Commander of the Navy who closely monitored the sea movements with meticulous coordination. This operation conducted with much bravery, valour and highly selfless services by Navy personnel enabled SLN to destroy three (3) LTTE arms shipments within a short span of 24hrs.
Rear Admiral SisiraJayakody a hero with an unblemished naval record who pioneered many successes for SLN is regarded as one of the best to serve the Navy in the noble cause of protecting and serving one's motherland.
In 1986 Cadet Corporal Kapila Perera became the 1st in the 1982 batch of University of Moratuwa Engineering Graduates and was the recipient of the President's award. He joined the Navy and during his training at the Naval Maritime Academy Trincomalee he was offered a scholarship to follow his master's on Gas Turbines at University of California from 1987 to 1989. After returning he served on various gun boats and naval establishments. Then in 1990 he did his PhD on Turbulent Heat Transfer again from the same University completing his Doctorate in 1993. He joined KDA in July 1995 as a lecturer in Marine and Mechanical Dept and served briefly as the Acting Director Academic staff and Lt Cdr Kapila Perera submitted papers to leave the Navy on 14th July 1995. He then served again as Director Academic Staff of KDA. He went on to be the Vice Chancellor of University of Moratuwa and finally Prof Kapila Perera functioned as the Secretary to Minister of Education.
Air Commodore JanakWanigathunge was the Commanding Officer of Electronics and Telecommunication Wing at the SLAF Base Katunayake during the final stages of the terrorist war, 2010. He was the head of the team that was involved in the upkeep and maintenance of sophisticated ground and air communication equipment especially designed for avionics systems of Kfir and MiG aircraft.
They were able to maintain the highest serviceability of the aforesaid systems throughout the terrorist war with limited resources. Responsible for providing much needed communication coverage and support for Air and ground combinations, their acclaimed services made possible search, pinpoint and destroy targets accurately and precisely.
Most of such operations being carried out behind the main stage, he was another unsung hero, a gallant product of Intake 2.
Sunil Wanniarachchi captained the University of Colombo Basketball Team in 1984. His name was synonymous with sports and the Army. He went on to play 'A' division Rugby for the Sri Lanka Army as a second row forward and continued to represent the game at the highest level for many years.
His contribution towards Rugby and Basketball won him the prestigious Army colours. He was one of the toughest and most fearless players Army ever produced.
He played the game to the fullest and contributed towards many memorable victories for the Army. Sunil Wanniarachchi is a legend in the disciplines of sports he represented, and his popularity and endearing nature earned him many fans and admirers. He was also trained to bring death to the enemy from the sky, as a qualified combat parachutist.
During the time of the final battle Commodore SarathAmarasinghe (fondly called as SAS in the Navy) was CSD (Commodore Superintendent Dockyard) at the Naval Base Trincomalee in 2010.The topmost technical post responsible for all repairs of ships and crafts. He had more than 50 technical officers and 3000 technical sailors directly reporting and working under him. Under his guidance his team worked day and night to ensure and keep the Sri Lanka navy fleet operational for sea battles. The Navy's success story from its very moderate status in the late eighties to the advanced status it enjoys now is remarkable. Senior Engineering officers like Rear Admiral SarathAmarasinghe were an integral part of that story and the journey.
It was during this trying period of evolution many new types of ships, crafts, engines, and systems were introduced to the Navy fleet. He was among very few who not only pioneered the introduction of these systems but also was instrumental in developing the infrastructure to upgrade the training, repairs, stores, spare management including maintenance of all such engineering systems during the most critical period of the battle against terrorism and the history of the SL Navy. He is one of the silent heroes, who always displayed great character, resilience, and undeterred dedication.
Neville Jayamaha Captained the University of Colombo Rugby team in 1984. He was well renowned in the Rugby fraternity and played for CH&FC with distinction for several years. The pivotal position he occupied as a full back for CH with his towering kicks will be remembered by all rugby lovers of Sri Lanka. His gigantic, long distance goal kicking ability with consistent accuracy was one of his major strengths.His towering penalty kick of almost 65 meters with his magical boots against CR at CH grounds in 1984 is well remembered and talked about even today by everyone who witnessed the match on that day. He was swift on his feet and dazzled even his opponents with his booming and pinpoint accurate long-range kicks.
Maj. Gen. Ajith Rupasinghe as Director Supply and Transport too has rendered great service to Sri Lanka Army behind the stage, yet responsible in meeting out critical and essential services of timely provision of supplies to the men in green. His efficient well-articulated and managed support services enabled the front-line soldier to receive much needed supplies of rations, fuel, oil, and lubricants, the all-important necessities the 'life blood of the Army.
Maj. Gen. Ranjith Rajapathirana holds the prestigious post of Judge Advocate, providing legal assistance to the military in all aspects be it in advising or presiding over court-martial cases and the handling and execution of military law. Given the various intrusions both locally and internationally the role and importance played by him in handling the legal aspects was of immense value to the Sri Lanka Army.
Another Service Cadet RajeeAmarasinghe joined the Navy and retired as Sub Lieutenant in 1987. He then continued his higher studies and presently is a Professor and Chair, Department of Mathematics, California State University, Fresno.
When the writer contacted Maj. Gen. L.C.R. Gunawardane and inquired about his recollection of his time as Squadron Commander at KDA, he recalled those golden days in the following manner, "With very limited resources, it was a most challenging but interesting task to train and transform 27 youngsters to be service Cadets. Whilst the emphasis was on their academics, moulding them to become good and effective leaders and service officers was also given the same emphasis.
The ultimate satisfaction of an instructor is not only to see a Cadet Becoming an Officer but also progressing in rank, gaining recognition, performing well and eventually reaching the Two Star Rank.
His parting remarks being on this 40th Anniversary of the Intake, I wish the Intakes as a whole and each one all the very best in their future endeavours. It was a pleasure and a satisfying experience to be your instructor at the KDA."
I was fortunate enough to contact the archangel of KDA, an officer with superb temperament who looked after all of us as a shepherd would look after his flocks from day one of KDA to the late 90s, well respected Capt. Raj. M. Fernando.
According to Capt. Fernando with a wistful dreamy recount of the days gone by, went on to explain that the cadets at the time were paid a monthly stipend of Rs. 100 per month which was a princely sum at the time. All their uniforms, clothes and sports gear were supplied by the KDA. They were occasionally given a pass to go out and the outings often resulting in good revelry and interesting stories.
On their 40th anniversary, I would like to congratulate Officers of Intake 2, whom I trained, groomed, coached, and assisted to prosper in their respective services and ranks. It's a great honour and immense satisfaction for an Officer Instructor to witness their successes. Best wishes Intake 2, I am proud of you all'.
The KDA 'Great' Intake 2, comprised of wonderful officers with excellent charisma and unmatchable qualities, they are Maj. Gen. Renuka Rowel ( Former Colonel Commandant Signals Corps, presently as Director General Research and Analysis MOD) Maj. Gen. Sunil Wanniarachchi (former Colonel Commandant General Service Corps) Maj. Gen. Ajith Rupasinghe (former Colonel Commandant Service Corps) Maj. Gen. Ranjith Rajapathirana (former Judge Advocate General) Rear Admiral SisiraJayakoddy (former Director General Personnel and Chief Hydrography Officer) Rear Admiral SarathAmarasinghe (former Director Marine Engineering) Air Vice Marshal JanakWanigathunge ( Director Electronics and Telecommunication Engineering) Brig. Mahesh Perera, SLN Captain Maithree Silva, Lt. Col. Kanaji Wijesekera, Lt. Col. Prasanna Chandrasiri, Lt. Col. Sanath Wickramasooriya, Commander ChampakaPaulis, Wg. Cdr. Ajith Samaraweera, Wg. Cdr. Sanath Sahabandu, Maj. VirajaLeelaratne, Maj. JaliyaEpa, Maj. Ajith Ratnayake, Maj Palitha Saputhanthrie, Lt. Cdr.Kapila Perera, Lt. Cdr. Prasanna Meemaduma, late Lt. Cdr.Saduna Gunasekera, SLN Lt. Sanath Dayaprema,, Sub Lt. RajeeAmarasinghe, C.L. Rajapakse ( Chief Engineer Dept. of Agriculture), Neville Jayamaha (former VP at DBS Bank, London Branch and Head of Finance and IT ) and TissaAbeykoon (former Deputy Director Business Statistics at Reserve Bank of New Zealand and Managing Director of Canterbury Educare Group).
I must also mention that three of the Officers of Intake 2, found their lifetime partners thanks to Sir John's visionary generosity. First ever wedding among two children, the second generation of entire KDA/KDU Intakes took place on August 16, 2021, Gayan son of Maj. Palitha Saputhantri married to Safna the daughter of Capt. Maithrie de Siva as both fathers are from Intake 2. Light heartedly I am sure, Sir John must be very proud and happy that his beautiful property has been put to very good use in every way.
It is the same with our brother officers of KDA who are today scattered around the globe but the camaraderie and friendships we formed at KDA is still strong as ever. Either way they all have lived up to our motto of "The Motherland for Ever".
I believe this was the vision Sir John had for the Academy when he donated his beautiful property. So far, the administrators have done an excellent job in their mission to keep alive the aspiration of Sir John. My fervent hope and wish are this endeavour will continue down the generations in the same manner without blemish and would be distractions.
Finally, I will be failing my duty if I do not acknowledge the unwavering support received from senior officers, and batch mates for this article. It's time for all of us to live up to the motto of our beloved KDA. "The Motherland for Ever".
Comments
Still No Comments Posted.