The All Rounder in Lakshman Kadirgamar
By M.V. Muhsin
It was a quiet Sunday in March, 2005 when Lakshman and Suganthi chatted with me as we sat in their verandah and sipped thambili. He painted a broad canvass of thoughts, rich in texture and resplendent in colour : they ranged from the stories behind the murals from India that adorned his walls, to the deeper meanings of the paintings of Stanley Kirinde, from the traditions that Trinity had handed down to the importance of playing one's role with integrity in politics. We also spoke about the importance of a rounded education reposed not only in books but in the character building that sports brings, from the broad role that culture and religion can play in nation building to the importance of English as a language to earn global citizenry. Spurred by Suganthi, we then talked about setting up a Foundation that can further the teaching of English in rural areas. In just two hours I felt so enriched and stimulated by the wisdom of this true all rounder.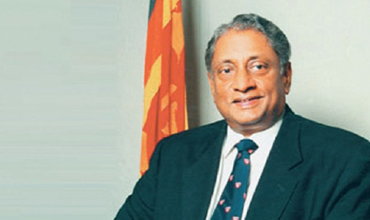 Reminiscing comes too late to all of us. But there are times when we feel we must recall from our library of thoughts. Lakshman's life was filled with volumes of rich, rare and many pleasant memories until cowards took his precious life on August 12, 2005. It is ironical that prior to the meeting I had to go through many layers of security checks at the gate, at the entrance to his residence, surrender mu cell phone, and then again before I was ushered into his living room. Yet, and tragically, on August 12, in what was a disastrous and major security failure, he was felled by an assassin's bullet as he stepped out of his swimming pool.
Here was a man who in his crowded 73 years had proved what a fine all round Gold Medalist he was at Trinity, a celebrated President of the Oxford Union, a leading attorney, orator, diplomat, politician, negotiator, and above all a Gentleman. The word Gentleman is alas so commonly used that it often loses it's meaning. But, Lakshman was the word's personification.
Athlete, Cricketer, and Ruggerrite, life was a engaging decatholon. His command of history made him persistent in the marathon of politics, his unrelenting defence of what he believed to be right reflected his stoic prowess to remain at the crease under attack; and his ability to give and take a hard tackle made him a resilient technocrat, diplomat and politician. Those who knew him well and learnt from him know how much be believed in the shield of justice and the sword of truth
His determination knew no bounds. It is reflected in a story : a youngster completely untutored was in the difficult art of preparing for his first practice of the hurdles on the Asgiriya grounds. The ground boy Marthenis, his battered hat on his head, was watching the boy's preparation with a twinkle in his eye, knowing full well what was about to happen. The boy charged at the hurdles and crashed ignominiously and painfully. Marthenis strolled to the bruised and shaken boy and said prophetically "don't worry, Duncan White also crashed like that"! Many years later the boy that Marthenis had picked up was awarded the "Lion" for Athletics-- the insignia for excellence at Trinity. The boy had persisted…he never gave up!
That was the Lakshman Kadirgamar we knew.
In determination, integrity and uprightness there are few equals in contemporary Sri Lankan politics. As the Bard put it in Hamlet:
This above all: to thine own self be true,
And it must follow, as the night the day,
Thou canst not then be false to any man,
Farewell, my blessing season this in thee!
Most humbly do I take my leave , my lord.
As Suganthi and Lakshman bade me good-bye I asked Lakshman as to when we will see the collected works of Lakshman Kadirgamar published. His response was self effacing: do you really think anyone will read it!?
Read for sure, we will. And remember him we must and shall. For after all:
"His life was gentle and the elements
So mixed in him, that Nature might stand up,
And say to all the world THIS WAS A MAN ."
M.V. Muhsin
Comments
Still No Comments Posted.