A Lending Hand from Kind Hearted Hongkongers to Rheumatology and Rehabilitation Hospital- Ragama
They are not disabled, but differently able though many of them won't stand on their feet in this life again. We have labeled them as "disabled" and have set aside or neglected them. Yet we are the lot, who have amputated their mindset and measuring their abilities and strength through their sufferings and difficulties. Let us affirm to our own selves to avoid such acts hereafter. Their limbs may never function, but they are willing to contribute their abilities in a more valuable level. What is needed is only a positive change of attitude towards them.
We are entering to the premises of Rheumatology and Rehabilitation Hospital inRagama which brings a soothing sight to the eyes and comforting feeling to the mind. Land laid with green all over is also consisted with lavishing shady trees which brings natural beauty to the scenery chasing away the mindset when we are entering to a hospital premises. While proceeding, we could see clearly the basketball court, which was then frequently used by the wheelchair personnel, is now heading its decay in a dilapidated condition and unable to make use of. My thought was not only a basketball court but if they had some other sporting facilities such as a swimming pool, table tennis area etc. how vastly it would be beneficial for them. At the same time, it was very clear that, Sri Lanka is still lagging behind with age old outdated norms, when compared to the other developed countries in the world at present.
Rheumatology and Rehabilitation Hospital at Ragama, is a hospital which treats patients with rheumatologic conditions, including rheumatoid arthritis, osteoarthritis and connective tissue disorders as well as rehabilitates patients following stroke, spinal injuries, limb amputations and pediatric patients with syndromes, cerebral palsy and musculoskeletal disorders. And it is the National Centre for Rehabilitation in Sri Lanka. It also consists of Sri Lanka School of Prosthetics and Orthotics (SLSPO), the only training school for Prosthetists and Orthotists in Sri Lanka.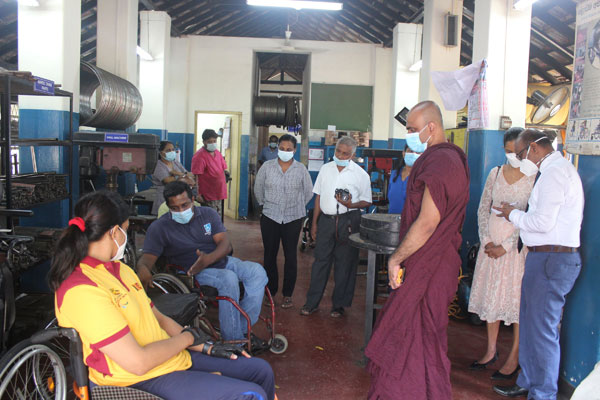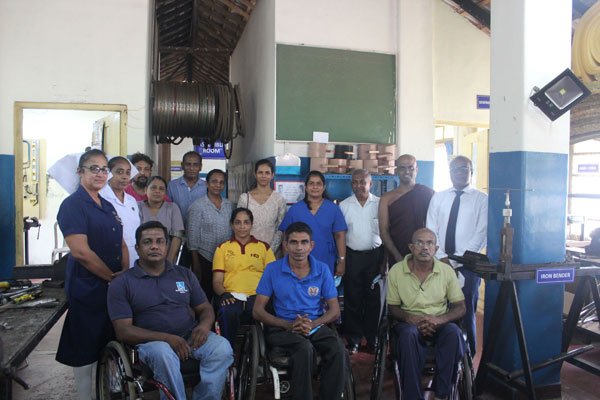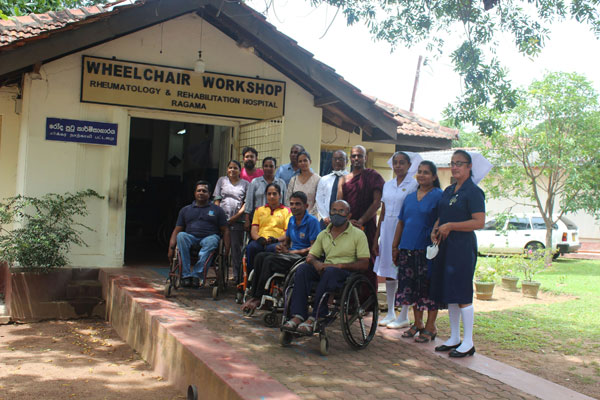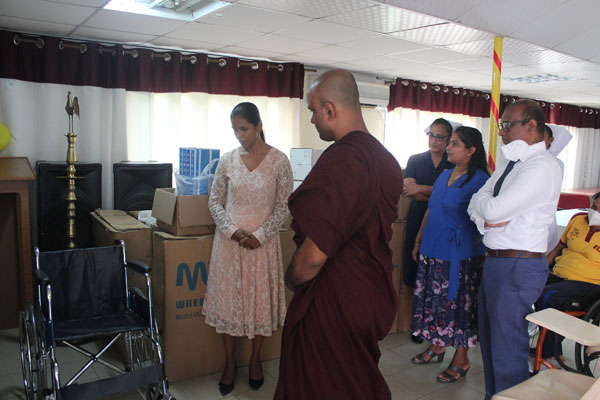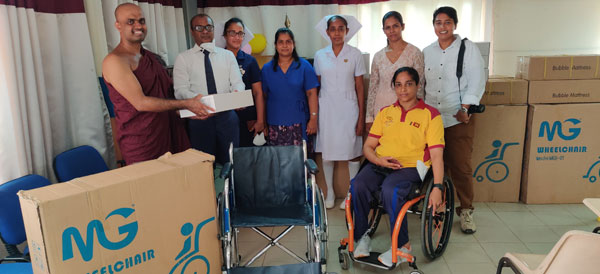 Although some may neglect this 'differently abled' lot, Founder of Sri Lankan Buddhist Cultural Centre inHong Kong (SLBCCHK) and Hon. Religious and Spiritual Advisor, Venerable SigiriyeSumiththaThero attended and inspected the activities of this hospital,during a visit to Sri Lanka on 1st of May 2022, he attended the special occasion of official handing over of 20 Orthopaedic Wheelchairs provided to him by the Benevolence Charity Hall Limited, Hong Kongand taking steps by immediately establishing the SLBCCHK Heal Sri Lanka 2022 Project, considering the current plight of the country, donated the essential items and drugs to the hospital, with the donations received through it.
Inaugurated in 2012, Benevolence Charity Hall Limited, Hong Kong is comprised of many pious and loving Hongkongers, who are keen to help the third world countries like Sri Lanka. This is not the first time they helped Sri Lanka, but even in the COVID 19 pandemic, they looked upon the Mother Sri Lanka with loving kindness. They are in the aim of donating 300orthopaedic wheelchairs for Sri Lanka and donated 20 wheelchairs worth Rs.570,000/- to the hospital as the first phase of it. We Sri Lankans are keen to extend our great respect mixed with love to all the members of the Benevolence Charity Hall Limited, Hong Kongand at the same time, we are of the hope and believe that, you would co-operate us for helping Sri Lanka in the years to come. Proceeding the donation of wheelchairs, Venerable SgiriyeSumiththaThero visited the wheelchair workshop in the hospital which is the only wheelchair workshop in a government hospital in Sri Lanka which produces customized active wheelchairs to the patients in need even with major difficulties.
"Patients with spinal injuries face devastating life all of a sudden following injury and this hospital is a place which makes their miserable lives a better, hopeful and near normal one with the dedicated service of the deputy director, consultants, doctors, nurses, therapists and all the health care workers who work beyond their limits, despite insufficient resources and aids the hospital receives" said Dr. SamithaSamanmalee, who is a doctor currently working in the health promotion unit in the hospital with a life experience with spinal injury in 2008 yet completed her MBBS and obtained two post graduate degrees, and is a national Para Rower, being a role model to all the patients with spinal injuries on how to win their lives despite all obstacles.
We wish the blessings of the Triple Gem be upon all of you in the Sri Lankan Buddhist Cultural Centre in Hong Kong's Heal Sri Lanka2022 Project, the Sri Lankan expatriates who are employed in Hong Kong and as well as the kind hearted Hongkongers, who are helping in this charitable task with the complete blessing and guidance of Ven. SigiriyeSumiththathero, in donating Air mattresses, PEG tubes, SIC catheters, Foley catheters, enemas, Plaster of Paris (Gypsum Plaster) and some other essential drugs worth of over one million rupees, during an hour of grave condition being faced by Sri Lanka. This is the first donation for this hospital among many donations to come.
Our heartfelt gratitude extends to all the volunteers of SLBCCHKfor their unstinted support spending their time and labour in coordinating between the two countries, and to the medical staff of the Rheumatology and Rehabilitation Hospital, Ragama, for the assistance extended towards the success of this event.
Comments
Still No Comments Posted.