Realme and Daraz.lk diamond partnership to offer not to be missed deals at daraz 11/11 sale and Black Friday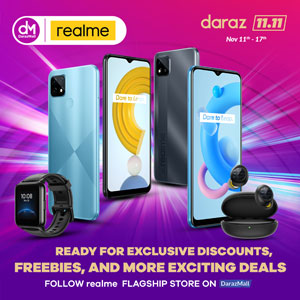 realme, the fastest-growing smartphone brand in the world, partnering with Sri Lanka's largest online shopping site Daraz.lk is offering not to be missed bargains and deals at this year's Black Friday season.
realme has unveiled its offers at both Daraz 11/11 Sale and Daraz Black Friday. The Daraz 11/11 promotions will begin on November 11 and ends on November 17. The Daraz Black Friday promotions will begin on November 24 and will continue till November 29.
realme will be offering both its smartphones and AIoT devices during this season of deals with attractive discounts. Popular realme products such as the C11 – 2021, C21Y, Buds Q2, and the realme Watch2, are on sale during Daraz 11/11 Sale and Daraz Black Friday with discounts. The C21Y for example is equipped with 4GB RAM and 64GB storage, a considerable capacity for a handset of its range.
Shawn Yan, Head of Marketing of realme Sri Lanka said: "By offering the latest technologies at an affordable price to our youth, realme continues to grow in popularity backed by its brand slogan "Dare to Leap". realme has become the fastest-growing smartphone brand in the world at present. This is due to the reason that it offers technologically better-quality items at affordable prices. Daraz has become a key player in realme's growth in Sri Lanka. realme has earned a 92% positive seller rating on the Darazmall which proves that realme fans are more than happy and satisfied with our offerings. realme was also placed within the Top 3 in the mobile and tablet brand category at the recently concluded "Daraz Million Desires" campaign while realme C11-2021 handset was awarded the "Topmost Popular Smartphone Model" during the July 2021 Daraz Mobile Week promotion. In the recently concluded Daraz turns 5 campaign the realme C11 – 2021 was placed number one in the mobile category".
"Since realme sees e-commerce as a major channel of growth. "We will be working closely with Daraz on their future campaigns as well.," adds Head of Marketing Shawn Yan.
About realme:
realme is a global emerging consumer technology company disrupting the smartphone and AIoT market by making cutting-edge technologies more accessible. It provides a range of smartphones and lifestyle technology devices with premium specs, quality, and trend-setting designs to young consumers at affordable prices. Established by Sky Li in 2018 and driven by its "Dare to Leap" spirit, realme is the world's 6th largest smartphone companyand has become one of the top 5 smartphone players in 15 markets globally in just two years.
. As of Q2 2021, realme has entered 61 markets worldwide, including China, Southeast Asia, South Asia, Europe, Russia, Australia, the Middle East, Africa and Latin America, with a global user base of over 100 million. For 2021 second quarter realme has been placed among Top 6 in smartphone rankings by Counterpoint.
About Daraz.lk:
Daraz is the leading online marketplace in South Asia as well as in Sri Lanka. Launched in 2012, it has an active presence in Pakistan, Bangladesh, Sri Lanka, Myanmar and Nepal. Supported by a wide range of tailored marketing, data, and service solutions, Daraz has 30,000 sellers and 500 brands including realme and serves 5 million consumers across the region.
Comments
Still No Comments Posted.