Royal College was 106-runs behind their traditional rivals St. Thomas College, when bad light halted play and cutting short their progression prior to the scheduled close with the former trailing by 106-runs on Friday at day-02 of the 143rd Battle of the Blues.
Royalists, despite scoring swiftly and keeping the scoreboard ticking, was still enough distance behind and they will have to accelerate, even to generate any interest in what has been an empty encounter here at the SSC grounds.
At close, they were at 136 for four.
When the Reid Avenue boys started their innings, they had to overcome an early twin-trouble. Kavindu Dias, playing in his maiden Royal-Thomian, in place of a dropped senior, made the first inroad to the cheer of the senior-most thomian school boys.
This match, being played behind closed doors for the second straight occasion, had only a little cheer from the selected school boys present, in what has always been a happening match.
Debutant Uvindu Weerasekara, for the Royals debutants share, remained unbeaten on 62, with the aid of nine boundaries.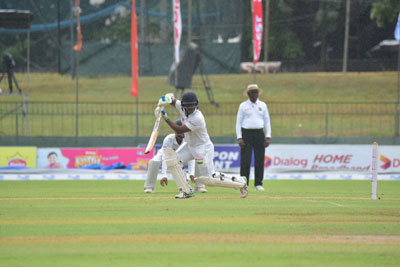 Captain Ryan Fernando, noticing fast-bowlers were firing on a futile note, introduced spinner, Janindu Abeygunawardhane. He, in his opening over itself, separated the settled pair of Sineth Jayawardena and Weerasekara. Jayawardena, bidding to be brisk, was caught at the slip cordon, ending a 58-run stand. Jayawardena was turning out to be threatening when he was at 32 of only 38.
The fifteen-year-old fresher Dais dismissed Sanvidu Senaratharachchi, trapping him for one.
Day 02, already off to an hour's delayed start, only made matters worse for them. Resuming on 207, they gave no fight or the grit, they're famed for, unlike the opening day's closing session. Their overnight half-centurion, Charuka Peiris, a savior for the school by the sea, was the first to go in the second over of the second day itself.
Vice-captain for them, Caniston Gunaratnam, entered-and-exited, giving Bulan Weerathunga, his only victim in the match so far.
Men from Mount Lavinia kept on losing them at regular intervals. Exactly, on the stroke of lunch, they were all out for a decent total of 242.
The Big Match champions, eventually, managed to muster only 34 to their overnight score.
Royal captain, Gishan Balasooriya, was the pick of the royal bowlers, accounting three victims, including his opposite side captain.
Adverse playing conditions (a rain-marred resumption and an all-day gloomy light) controlled the contest. Consequently, at least 23-overs, and adding insult to injury, around two-and-a-half hours of playing time too was lost.
The third and the final day on Saturday is scheduled for a 9.40 start.
Chief scores:
Royal: 136 for four (37) (Uvindu Weerasekara 62*, Sineth Jayawardena 32, Kavindu Dais 2/38, Gunaratnam Caniston 1/43)
STC: 242 all out (106.2) (Senesh Hettiarachchi 55, Charuka Peiris 51 not out, Mahith Perera 33, Gishan Balasooriya 2/56, Sandesh Ramanayake 2/16, Ramiru Perera 2/36)