Israel pounds Gaza to curb Palestinian militants but rockets still fly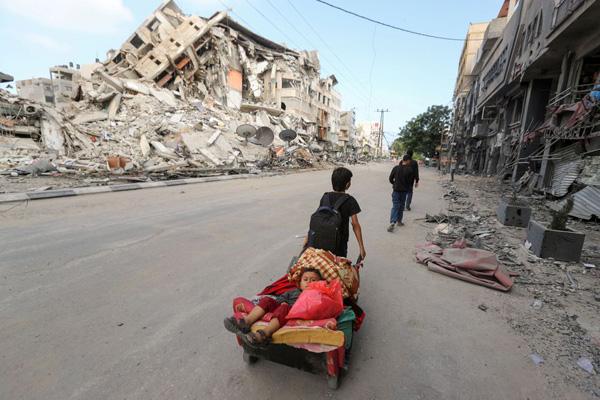 A Palestinian boy pulls a cart carrying his brother and their belongings as they flee their home during Israeli air and artillery strikes, near the site of a tower building destroyed in earlier strikes in Gaza City May 14, 2021. REUTERS/Mohammed Salem
Israel pummelled Gaza with artillery fire and air strikes on Friday as it targeted Palestinian militant tunnels to try to stop persistent rocket attacks on Israeli towns.
The 40-minute, pre-dawn offensive killed 13 Palestinians, including a mother and her three children whose bodies were pulled from the rubble of their home, health officials in Gaza said.
The Israeli operation included 160 aircraft as well as tanks and artillery firing from outside the Gaza Strip, Israeli military spokesman Lieutenant Colonel Jonathan Conricus said.
Palestinian rocket barrages against southern Israel swiftly followed on the fifth day of the most serious fighting between Israel and Gaza militants since 2014.
Egypt was leading international efforts to secure a ceasefire amid fears the conflict could spread. Security sources said neither side appeared amenable so far but a Palestinian official said negotiations had intensified on Friday.
Gaza's ruling Hamas group launched the rocket attacks on Monday, aiming at Jerusalem and Tel Aviv in retaliation for Israeli police clashes with Palestinians near Al-Aqsa Mosque, Islam's third holiest site, in Jerusalem.
Violence has since spread to cities where Jews and Israel's minority Arab community live side by side and there have been clashes between Palestinian protesters and Israeli security forces in the Israeli-occupied West Bank, where health officials said five Palestinians had been killed on Friday.
At least 122 people have since been killed in Gaza, including 31 children and 20 women, and 900 others wounded, Palestinian medical officials said.
Among eight dead in Israel were a soldier patrolling the Gaza border, six Israeli civilians - including two children, an elderly woman and an Indian worker, Israeli authorities said.
The U.N. Office for the Coordination of Humanitarian Affairs said there were reports of more than 200 housing units destroyed or severely damaged in Gaza and hundreds of people seeking shelter in schools in the north of the coastal enclave.
Israel says it makes every effort to preserve civilian life, including warning in advance of attacks.
"What we were targeting is an elaborate system of tunnels that spans underneath Gaza, mostly in the north but not limited to, and is a network that the operatives of Hamas use in order to move, in order to hide, for cover," Conricus told foreign reporters, adding that the network was dubbed "the Metro".
Israeli warplanes on Friday bombed the houses of three senior Hamas military commanders in central Gaza which had already been evacuated, local residents said. (Reuters)
Comments
Still No Comments Posted.